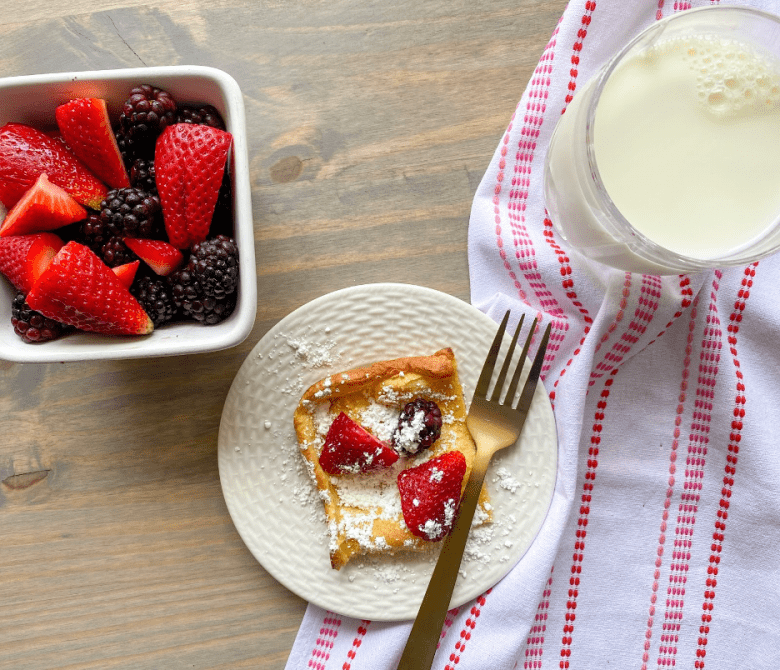 5

25

30

5
The Dutch Baby tastes as good as it looks, and the best part, it's super easy to make! Recipe is written and created by Cristy Steward-Harfmann. See this recipe and more at her blog
Happy Family Blog
.

Print Recipe
Ingredients
3 eggs

1/2 cup all purpose flour

1/2 cup milk

1 Tablespoon sugar

pinch tsp nutmeg

4 Tbsp butter
Preparation
Preheat the oven to 4250ºF.

In a 9X13 inch baking dish place the butter and put in the oven while it heats up. This should melt the butter. Remove when it is heated or when the butter has melted. Watch so it does not burn

In a blender combine the flour, milk, sugar, nutmeg and eggs. Blend until smooth, this should take about 2 minutes. If you don't have a blender, you can also use a mixing bowl with a stand mixer, hand mixer or whisked by hand.

Pour into the baking dish with the melted butter and bake for 20 minutes, until the pancake is puffy and golden. Lower the oven temperature to 300 degrees and bake for 5 minutes longer.

Remove from the oven and cut into the pancake. Serve with powdered sugar, berries or syrup.