Eggnog Candy Cane Cookies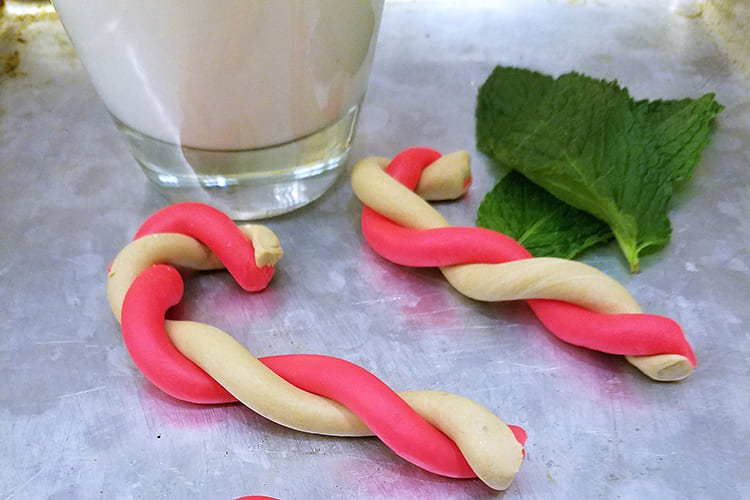 15

10

25

60

Print Recipe
Ingredients
1 cup granulated sugar
1 cup butter, softened
1/2 cup eggnog
1 teaspoon pure vanilla extract
1 teaspoon peppermint extract
1 large egg
3 1/2 cups all-purpose flour
1 teaspoon baking powder
1/4 teaspoon salt
1/2 teaspoon red food color, or until preferred intensity of color is reached
2 tablespoons finely crushed peppermint candies
2 tablespoons granulated sugar
Preparation
Blend 1 cup sugar, butter, milk, vanilla, peppermint extract, and egg in a large bowl. Stir in flour, baking powder, and salt. Divide dough in half. Stir food color into 1 half. Cover and refrigerate at least 4 hours.
Heat oven to 375ºF.
Stir together peppermint candy and 2 tablespoon sugar; set aside.
For each candy cane, shape 1 rounded teaspoon dough from each half into 4-inch rope by rolling back and forth on floured surface. Place 1 red and white rope side by side; press together lightly and twist. It's okay of the ropes tear. You can press them into place as you transfer to a parchment paper lined baking pan. Gently curve the top to form the crook of the cane.
Bake 10 to 12 minutes or until set and very light brown. Immediately sprinkle candy mixture over cookies. Remove from cookie sheet to wire rack. Cool completely, about 30 minutes.
Baking tips
Shiny, heavy-gauge cookie sheets with low or no sides are recommended. Metal browns more evenly than glass bakeware. Avoid dark or black cookie sheets as they may cause bottoms to bake faster and overbrown. Insulated cookie sheets tend to yield pale cookies with soft centers — and if you bake cookies on them until brown on the bottom, the rest of the cookie may become too dry. Inexpensive pans conduct heat poorly and unevenly and even warp when subjected to high heat.
Over-mixing cookie dough can incorporate too much air into the dough, resulting in flat, overly spread-out cookies. Always read through and follow the recipe instructions.
Most cookie recipes call for all-purpose flour. Lightly spoon flour into a dry measuring cup and level with a knife. Do not sift unless the recipe says to do so.