Holiday Sugar Cookie Bars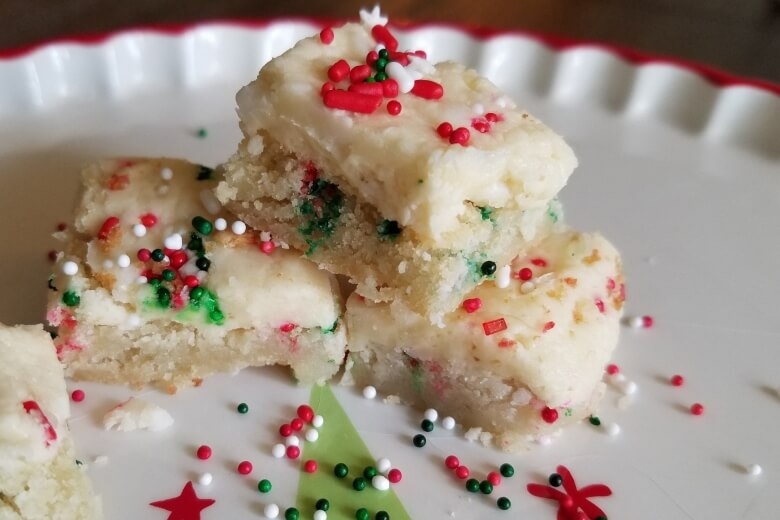 15+cooling

15

30+cooling

32
Holiday Sugar Cookie Bars are so easy. You can substitute spiced rum for the peppermint extract if desired. Make sure the cookie crust cools completely. Bars like this need lots of chill time to meld the ingredients. I made these and then let them set in the refrigerator overnight. Yes, I know there is a bit of "cheater pants" going on by not making the cookie dough from scratch. But when time is of the essence, it's OK to use convenience products to keep things merry and bright.

Print Recipe
Ingredients
1 (16.5-ounce) package refrigerated sugar dough
1/2 teaspoon freshly grated nutmeg
2 tablespoons red and green candy sprinkles
1/2 cup salted butter
3 cups powdered sugar
3 to 4 teaspoons whole milk
1/2 teaspoon peppermint extract
Additional red and green candy sprinkles for topping
Preparation
Heat oven to 350F.
In medium bowl, break up cookie dough. Stir or knead in nutmeg and 2 tablespoons candy sprinkles until well blended. Press evenly into a 13-by-9-inch baking pan.
Bake 15 to 20 minutes or until set and edges are golden brown. Cool completely in pan on cooling rack, about 1 hour.
In medium bowl, beat butter, powdered sugar, milk, and peppermint extract with electric mixer on medium speed until smooth. Add additional milk, 1/2 teaspoon at a time, until desired spreading consistency.
Spread evenly over cooled bars. Sprinkle with additional candy sprinkles. Cut into 8 rows by 4 rows.