Island Dream No Churn Ice Cream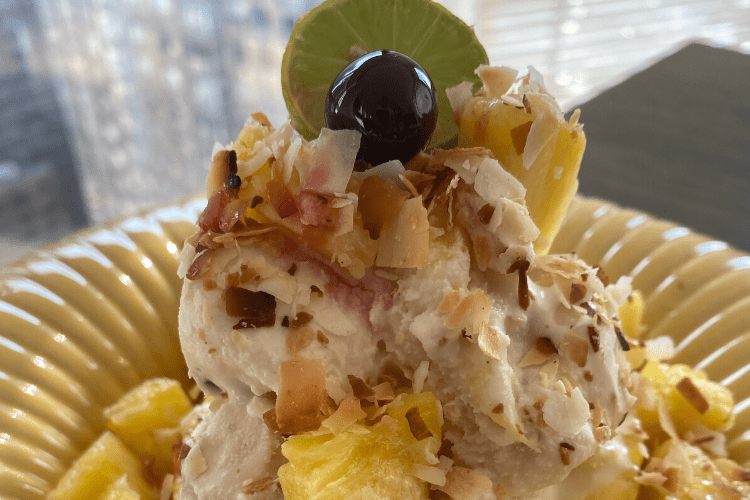 15+chilling

45

60+chilling

4

Print Recipe
Ingredients
Ingredients:
2 teaspoons vanilla extract
Pinch fine salt
2 cups heavy cream
2 cups condensed milk (homemade or store bought)
For the condensed milk:
2 cups full fat milk
2/3 cups white sugar
For mix-ins and toppings:
1 large chunk of pineapple, cut into small pieces
1/2 cup of toasted coconut flakes
cherries for garnish
2 key limes
Preparation
Step 1: For the condensed milk:
Add the milk and sugar into a small saucepan. Keep on low heat until the sugar has dissolved. Once the sugar has dissolved, bring the mix to a simmer over medium-low heat.
Do not stir once the mix starts to simmer. Simmer for roughly 40 minutes, or until the milk has darkened to a creamy color. Remove any excess foam.
After 40 minutes, remove the mixture from the heat and pour into a jar to cool. Let the condensed milk cool completely before putting on lid. Place in fridge for approx 30-45 minutes until fully cooled.
Step 2: for the ice cream:
Whisk together the condensed milk, vanilla and salt in a large bowl and add the heavy whipping cream.
Once fully mixed, fold in the pineapple chunks and toasted coconut. (You can toast the coconut flakes by putting in microwave for 30 second increments. For this recipe I did 90 seconds).
Place in plastic container and put in the freezer for 2-3 hours until thick and creamy.
Remove after that time and mix.
Place back in freezer for an additional 2 hours.
Serve with toppings!
Enjoy!