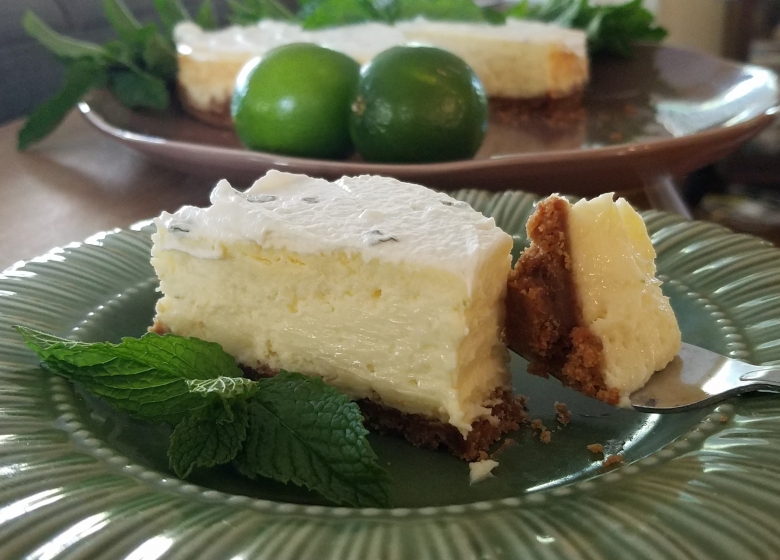 45

98

143

10
Welcome to June Dairy Month, a time to celebrate to Florida dairy farmers and their agriculture colleagues across the Southeast. The 2015-2020 Dietary Guidelines for Americans produced by the Department of Agriculture and the Department of Health and Human Services supports the importance of consuming three daily servings of dairy foods such as milk and cheese. Dairy is also highlighted for providing three of the four nutrients that are typically lacking in American diets: calcium, potassium, and vitamin D. Both organic and regular dairy foods contain the same essential nutrients key to a healthy and balanced diet.
Throughout June we will be sharing recipes that cover a range of flavors and healthful approaches to summertime menus. But we thought we would kick things off with a dessert splurge. After all, moderation is part of any good-for-you eating plan. Slim slices are super satisfying and sharing the cheesecake with the friends and family will make second-serving temptations disappear quickly.
Recipe provided by Heather McPherson from Heather's Florida Kitchen.

Print Recipe
Ingredients
For the crust:
2 cups crushed gingersnap cookies
1/4 cup salted butter, melted
For the filling:
3 (8-ounce) packages lower-fat cream cheese, softened
1 cup sugar
1/4 cup light rum
1 tablespoon freshly grated lime zest (see note)
2 tablespoons freshly squeezed lime juice (see note)
3 large eggs
For the topping:
1 cup heavy cream
3 tablespoons powdered sugar
2 teaspoons light rum
2 tablespoons finely chopped fresh mint, plus whole leaves for garnish
Preparation
Heat oven to 350F. Line the bottom of a nonstick, 9-inch springform pan with parchment or wax paper.
In a small bowl, mix crust ingredients. Press into prepared pan. Bake 8 minutes, or until crust is set. Reduce oven temperature to 300F. Cool crust completely.
For filling, in a large bowl, beat cream cheese, sugar, rum, lime zest, and lime juice with an electric mixer on medium speed. When mixture is fluffy, beat in eggs one at a time, just until blended. Pour filling over cooled crust.
Bake at 300F for 55-65 minutes, until edge of cheesecake is set at least 2 inches from the edge of the pan, but center of cheesecake moves slightly when moved. Turn oven off, leaving door open just a bit. Let cheesecake sit in oven for 30 minutes. Run a small metal spatula around the edge to loosen cheesecake. Cool in pan on a cooling rack for 30 minutes. Refrigerate for at least 6 hours or overnight.
For topping, in a chilled bowl, beat cream, powdered sugar, rum, and chopped mint with an electric mixer on high speed until soft peaks form.
Run a knife around edge of pan and release the pan sides. Invert cake onto a plate. Remove bottom plate, and slowly peel off parchment paper. Place a serving plate on top and invert the cake again. Slice and top with whipped cream. Garnish each slice with a mint leaf.
Recipe note: Zest the limes before squeezing for juice.
Time saver suggestion: Prepare the crust the day before baking so that it is cooled and ready to go.
Adapted from "The Mojito" by Heather McPherson (Seaside Publishing, an imprint of University Press of Florida)