No-Bake Pecan Pie Cheesecake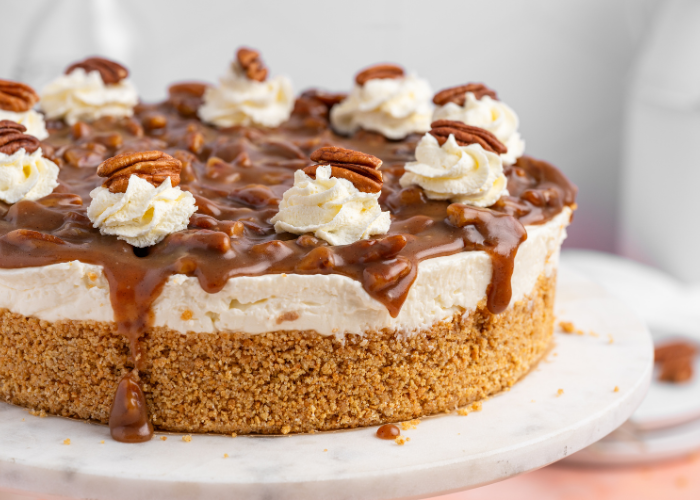 15

10

25

10

Print Recipe
Ingredients
Pecan Pie Filling:
1/2 cup + 2 Tbsp butter
1 1/3 cup brown sugar
2 1/2 cup pecans chopped
2 tsp vanilla extract
2/3 cup heavy cream
1/2 tsp cinnamon
1/4 tsp nutmeg
1/2 tsp salt
Crust:
1 1/2 cup graham crackers crumbs
1/4 cup sugar
6 Tbsp butter, melted
Cheesecake:
2 blocks cream cheese, softened
1 cup sugar
1 tsp pure vanilla extract
2 cups heavy whipping cream
Preparation
Pecan Pie Filling:
Add butter, brown sugar and pecans to a medium saucepan and cook over a medium heat until sugar is dissolved, about 2-3 minutes. Stir occasionally.
Add in the cinnamon, nutmeg, salt and vanilla, and stir to combine. Slowly pour in the heavy cream and stir until fully incorporated. Cook for 1 minute and then remove from the heat. Let cool to room temp.
Crust:
Line the bottom of a 9 inch springform pan with parchment paper.
Place graham cracker crumbs and sugar into a bowl. Add melted butter and mix to incorporate. Press mixture into bottom and refrigerate for at least 30 minutes to firm up.
Cheesecake:
In a large bowl, beat cream cheese and sugar for a few minutes until creamy. Add in vanilla essence and beat until fully blended.
In a separate bowl, whip heavy cream until stiff peaks form, this can also be done in a stand mixer.
Fold whipped cream into cream cheese mixture until incorporated.
Assembly:
Add half the pecan pie filling onto the crust and spread out evenly.
Top with the cheesecake and smooth top.
Refrigerate at least 6 hours before serving. Overnight is best. Store the rest of the pecan pie filling in the fridge.
Remove pecan pie filling from fridge and let warm to room temp.
Remove cheesecake from fridge when ready to serve. Top with pecan pie filling and enjoy.
Notes: Can be stored in an airtight container in the refrigerator for 3 days