No Bake Pumpkin Spice Pudding Pie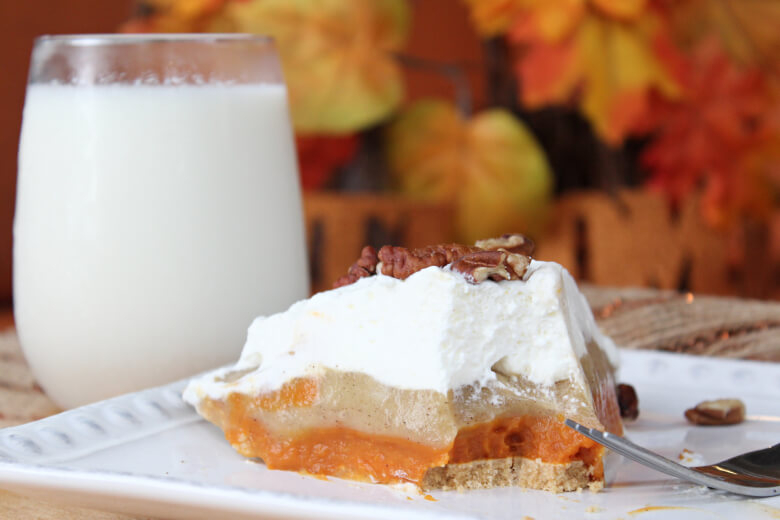 20+chilling

0

20+chilling

7

Print Recipe
Ingredients
Crust
1 store bought Extra 2 Servings Graham Cracker Pie Crust
Pumpkin Layer
15 oz Pure Pumpkin (1 can)

3.4 oz vanilla instant pudding (1 small box)
Pumpkin Spice Pudding Layer
2 cups cold milk (I used 1%)

3.4 oz vanilla instant pudding (1 small box)

½ tablespoon pumpkin pie spice
Homemade Whipped Cream
1½ cups heavy cream

1 tablespoon powdered sugar
Preparation
Pumpkin Layer
In a small bowl mix pure pumpkin and 1 box of vanilla pudding mix using a spoon.
Spread the pumpkin mixture on the bottom of the store bought pie crust.
Pumpkin Spice Pudding
Using a mixing bowl combine the milk, 1 box of vanilla pudding mix and the pumpkin pie mix.
Mix thoroughly until slightly thickened.
Pour the pumpkin spice pudding onto the pumpkin layer. Make sure it's an even layer.
Homemade Whipped Cream
Add cold heavy cream and powdered sugar into a mixing bowl.
Whisk together on high speed for about 1 -2 minutes until stiff peaks form.
Spread the homemade whipped cream on top of the pumpkin spice pudding layer.
Cover and refrigerate for at least 4 hours before serving.
Enjoy with a tall glass of cold milk!