No-Churn Blueberry Cobbler Ice Cream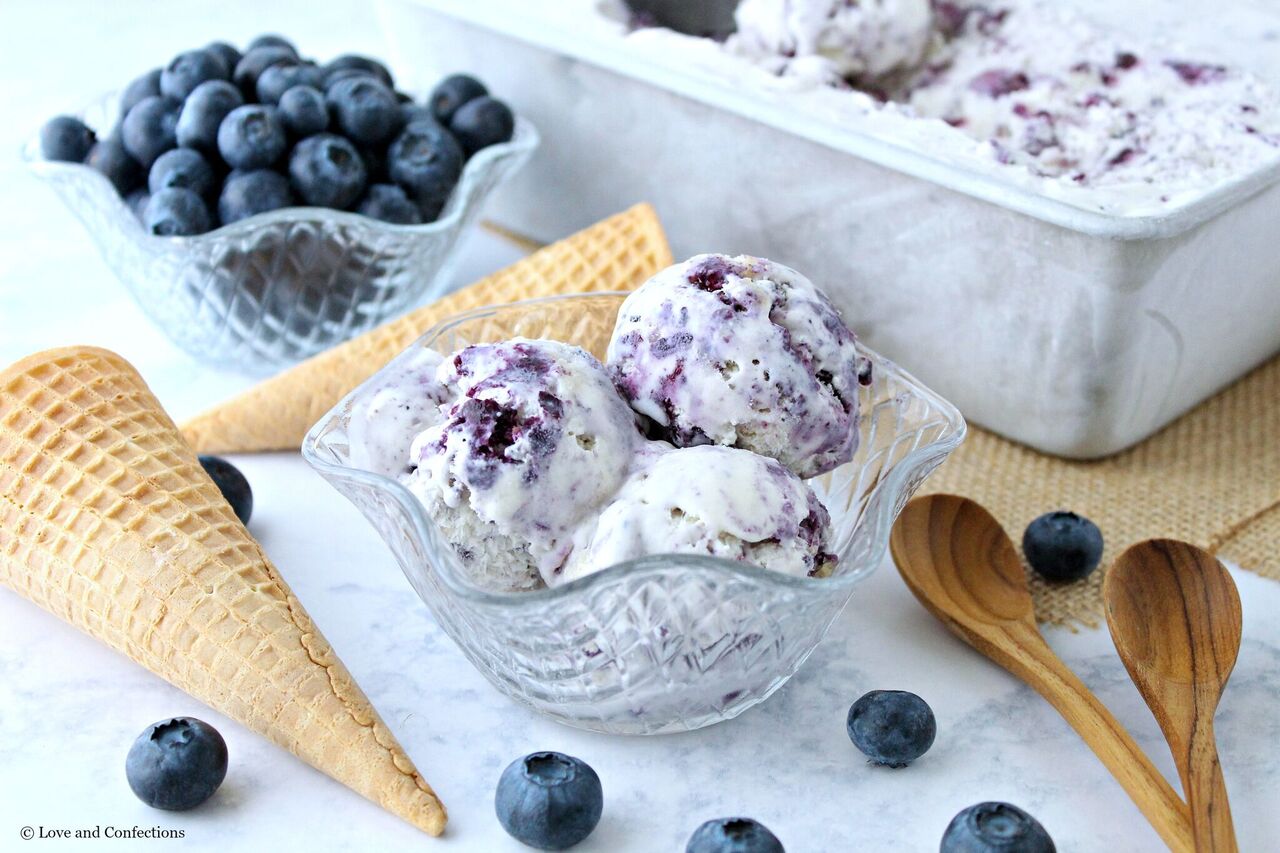 20

40

60

6

Print Recipe
Ingredients
Blueberry Cobbler:
3 cups fresh or frozen blueberries
2 tablespoons granulated sugar
3 tablespoons orange juice
2/3 cup all purpose flour
1/4 teaspoon baking powder
1/8 teaspoon salt
1/2 cup (1 stick) unsalted butter, softened
1/2 cup granulated sugar
1 large egg
1 teaspoon vanilla extract
No-Churn Ice Cream:
2 cups heavy whipping cream
2 teaspoons vanilla extract
1 can (14 oz.) sweetened condensed milk
2 cups prepared cobbler, broken into bite-sized pieces
Preparation
Heat oven to 375F. Spray 8-inch square baking dish with cooking spray.
In baking dish, combine blueberries, 2 tablespoons sugar, and orange juice, then set aside.
In small bowl, whisk together flour, baking powder, and salt, then set aside.
In the bowl of your stand mixer with the paddle attachment or in a medium bowl with a hand mixer, cream butter and granulated sugar for 3 minutes, or until light and fluffy. Scrape down the sides of the bowl then add egg and vanilla extract. Combine and scrape down sides as needed.
Slowly add in the flour mixture while on low speed. Mix until just combined, then evenly cover the blueberries with dollops of batter.
Bake for 35 to 40 minutes, or until the cobbler topping is golden brown. Cool to room temperature, then refrigerate until well chilled.
In bowl of stand mixer with whisk attachment or in medium bowl with hand mixer, whip heavy cream and vanilla extract until stiff peaks form. Slowly fold in sweetened condensed milk. Fold in 1 cup cobbler.
In loaf pan, place half of the ice cream mixture in, then top with 1/2 cup cobbler and swirl with knife. Top with remaining ice cream mixture and repeat with remaining 1/2 cup cobbler.
Place plastic wrap over surface of ice cream and freeze minimum 6 hours, or overnight.