Red Velvet Ice Cream Cake with Mango and Raspberry Topping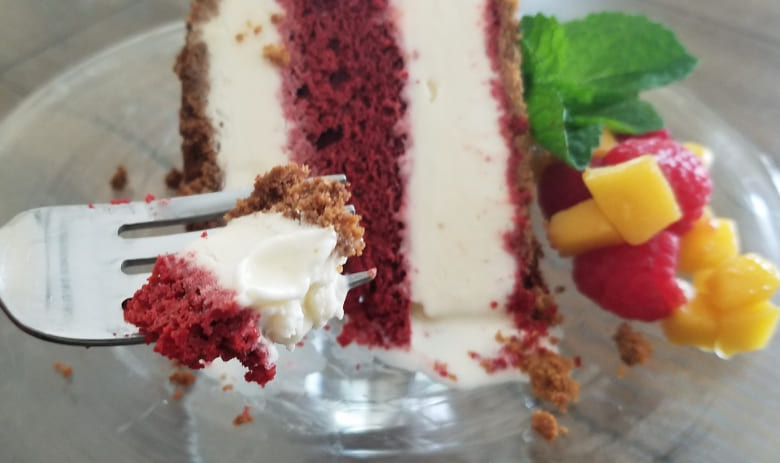 30

40

70

10
There are plenty of reasons to celebrate National Ice Cream Day. Probably the most obvious reason is that the creamy treat -- that starts with wholesome fluid milk -- is so delicious. In the United States the ice cream industry, contributes more than $39 billion to the national economy and creates more than 188,000 jobs in communities across the country, according to the International Dairy Foods Association.
Any holiday celebration deserves a cake centerpiece on the table. Red Velvet Ice Cream Cake with Mango and Raspberry Topping is that showstopper. The jewel tones of the fruit and cake pop in the backdrop of the ice cream layers. The peppery gingersnap crust balances out the richness of the ice cream and provides a firm base.
Recipe provided by Heather McPherson from Heather's Florida Kitchen.

Print Recipe
Ingredients
For the base:
2 1/4 cups crushed gingersnap cookies, divided
1/4 cup salted butter, melted
For the cake:
1 1/4 cups flour
1/3 cup unsweetened cocoa powder
1/2 teaspoon baking soda
1/4 teaspoon salt
1/2 cup (1 stick) butter, softened
1 cup granulated sugar
2 large eggs
1/2 cup sour cream
1/4 cup whole milk
1 ounce red food color
1 teaspoon pure vanilla extract McCormick® Pure Vanilla Extract
For the ice cream filling:
1/2 gallon vanilla ice cream, softened
For the garnish:
Fresh raspberries
Diced mangoes
Fresh mint sprigs
Preparation
Heat oven to 350F. Line the bottom of a nonstick 9-inch springform pan with parchment or wax paper.
In a small bowl, mix 2 cups gingersnaps cookie crumbs with the melted butter. Press the remaining crumb mixture into the springform pan. Bake 8 minutes, or until crust is set. Cool crust completely.
For the cake, preheat oven to 350F. Coat one (9-inch) round cake pan with cooking spray; dust with flour and tap out excess. Line bottom of the pan with parchment or wax paper.
Sift flour, cocoa powder, baking soda, and salt. Set aside.
Beat butter and granulated sugar in large bowl with electric mixer on medium speed 5 minutes or until light and fluffy. Beat in egg. Mix in sour cream, milk, food color, and vanilla. Gradually beat in flour mixture on low speed until just blended. Pour into prepared pan.
Bake 35-40 minutes or until a pick inserted in the center comes out clean. Remove from the oven and cool 10 minutes in the pan. Invert onto cooling rack, remove parchment or wax paper and cool cake completely.
With a serrated knife trim domed top of cake layer. Crumble trimmed pieces and set aside.
To assemble, spread a layer of the ice cream onto the gingersnap cookie crust in the springform pan. Freeze for 10 minutes.
Place the red velvet cake on top of ice cream layer. Spread another layer of the ice cream on top of the cake layer. Top with red velvet cake crumbs and then sprinkle with remaining gingersnap cookie crumbs. Freeze overnight.
To serve, use a sharp knife to loosen cake from sides of springform pan. Slowly remove pan ring. Serve with fresh fruit and mint leaves on the side.
Tips
Glass and metal containers hold a chill and will help keep the softened ice cream spreadable while you assemble the cake.
Chopped pecans or walnuts can be added to softened ice cream for more texture.
Bake the cake layer up to three days before. Wrap in plastic wrap and freeze.
Substitute your favorite box mix if desired. Make 2 layers and freeze one for another use.
Use an offset spatula to spread the ice cream.