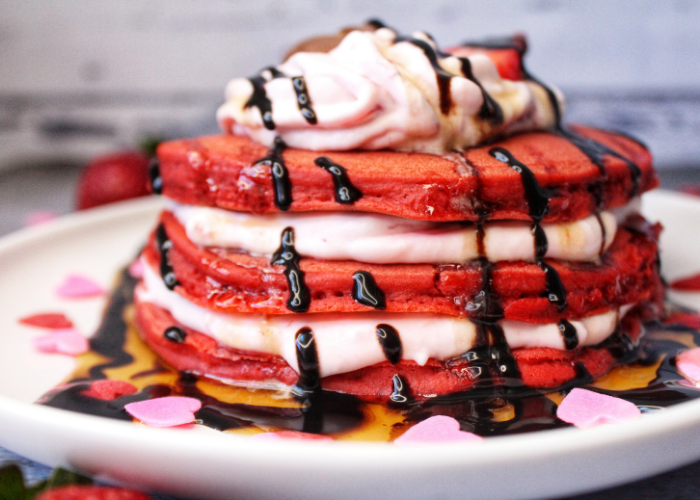 15

15

30

6

Print Recipe
Ingredients
Ingredients for Pancake
1.5 cups of Milk

1 cup red velvet cake mix

1 1/4 cup of your favorite "complete" pancake mix
Ingredients for Strawberry Mousse
1 cup of sliced strawberries

1 cup of heavy cream

2 tablespoons sugar
*Chocolate syrup and heart shaped sprinkles optional
Preparation
In a large size bowl, mash strawberries until you get a jam like consistency. Add cream, sugar, and using a hand held mixer, beat until stiff peaks are just about to form. Make sure not to over-beat, cream will then become lumpy and butter-like. Set aside in the fridge.

In a medium-sized bowl, combine pancake mix and milk, and stir with a spatula or whisk until smooth.

Add red velvet cake mix to the mixture and whisk until smooth. Mixture should be thick, as milk adds that extra fluff for the perfect pancake.

Heat a small non-stick skillet on low heat and spray with cooking spray.

Scoop 1/3 cup of pancake batter and pour into the pan slowly (I use an ice cream scoop to keep each pancake the same size). The batter will be thick so you may need to spread with the spoon.

Griddle pancakes for 1minutes per side.

Stack 3 pancakes and layer each one with the strawberry mousse ( 2 layers) and add a final scoop on top finish with chocolates and syrup if desired.