Rich Chocolate Cupcake Recipe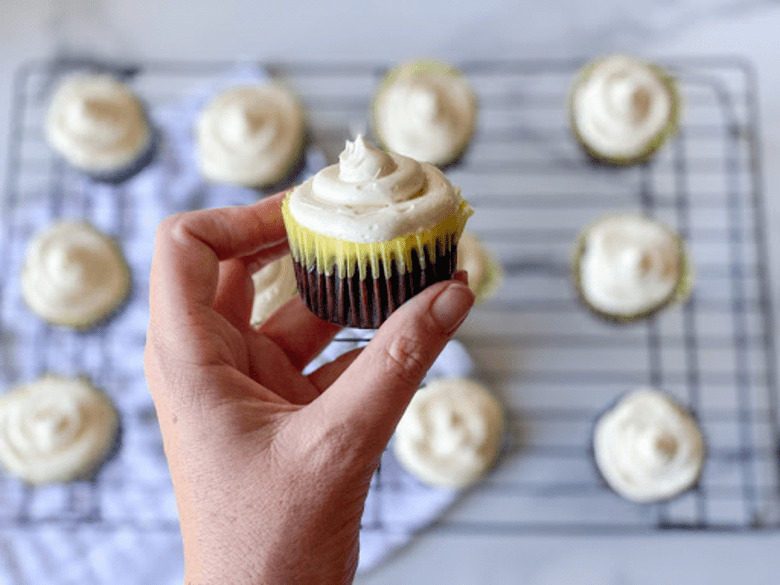 15

18

33

16

Print Recipe
Ingredients
1 cup all-purpose flour
1/2 teaspoon salt
1/2 teaspoon baking soda
1/2 cup cocoa powder natural
1/4 cup unsalted butter
1 cup sugar
2 ounces chocolate (we used 4 tablespoons of mini chocolate chips)
2 large eggs room temperature
2 large egg yolks room temperature
9 tablespoons vegetable oil
2 teaspoons vanilla extract
1/3 cup full-fat sour cream
1/2 cup water room temperature
Preparation
Preheat oven to 350 F.

Mix flour, salt, baking soda and cocoa powder into a medium-sized bowl. Set aside.

In a separate mixing bowl mix butter and sugar until fully combined with a hand mixer or a stand mixer. It will be a sandy texture.

Melt the chocolate. We melted it in the microwave. Heat in 30 second intervals so you do not overcook it.

Wait until the melted chocolate is cool enough to touch. Then add it to the butter/sugar mixture and mix until just combined.

Mix in eggs and egg yolks one at a time and mix until fully combined.

Mix in oil, vanilla, and sour cream until just combined.

Add dry ingredients to wet ingredients in small amounts, mixing until just combined.

Mix in water. The mixture will look really liquidity.

Fill cupcake liners 2/3 full and put in the oven.

Cook for 18 minutes – then check to make sure they are fully cooked. The toothpick should come out clean.

Remove cupcakes and place on a cooling rack or on the counter to cool to room temperature.

Ice them once they have cooled off completely.