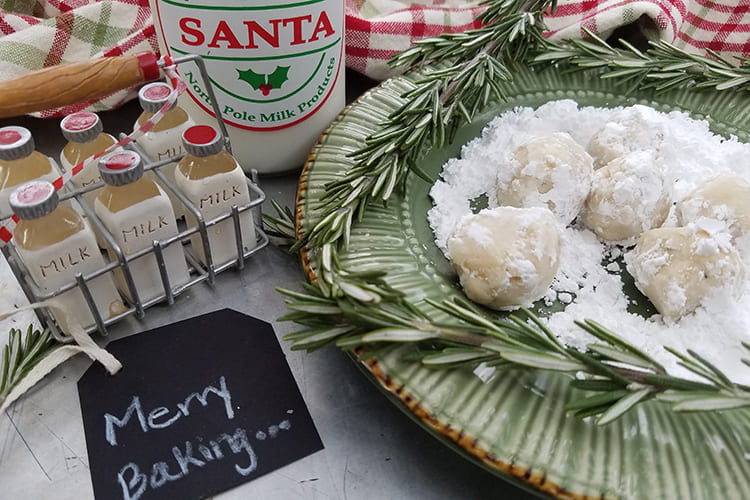 15

15

30

36

Print Recipe
Ingredients
1 cup unsalted butter, softened
3/4 cup confectioners' sugar
1 1/2 teaspoons spiced rum
Pinch of salt
2 cups all-purpose flour
1 tablespoon finely minced fresh rosemary
1/4 teaspoon ground cinnamon, or to taste
3/4 cup pecans, chopped
Powdered sugar for coating cookies
Preparation
Heat oven to 350F.
Combine butter, confectioner's sugar, rum, salt, and cinnamon with an electric mixture until light and fluffy. Add flour, rosemary, and nuts, mixing on low until just combined.
Roll dough into 1-inch balls and place 2 inches apart on an ungreased cookie sheet. Bake 15 minutes or until golden. They are ready with the bottoms are golden.
While hot from the oven, immediately toss cookies in powdered sugar. Then let cookies cool on a wire rack 5 minutes. Toss again in powdered sugar, then let cool completely on a wire rack.
Baking tips:
Soft butter blends better. Incorporating hard, chilled butter overworks the batter.
Check cookies and bars at the minimum bake time, baking longer if needed.
Using a flat, thin metal spatula, remove cookies from the baking sheet and cool as directed.