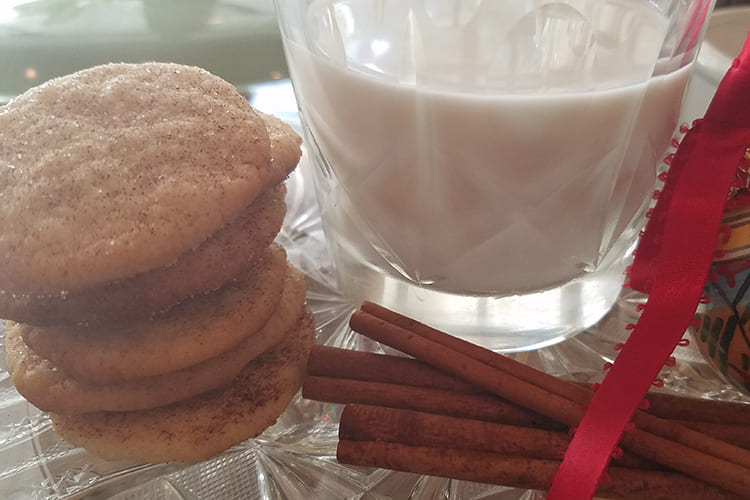 15

10

25

48

Print Recipe
Ingredients
1 3/4 cups granulated sugar, divided
1/2 cup butter, softened
1/2 cup shortening
2 large eggs
2 3/4 cups all-purpose or unbleached flour
2 teaspoons cream of tartar
1 teaspoon baking soda
1/4 teaspoon salt
2 teaspoons ground cinnamon
Preparation
Preheat oven to 400F. Line cookie sheets with parchment paper.
Blend 1 1/2 cups sugar, butter, shortening, and eggs. Stir in flour, cream of tartar, baking soda, and salt.
Shape dough into 1-inch balls. Mix 1/4 cup sugar and the cinnamon. Roll balls in cinnamon-sugar mixture. Place 2 inches apart on baking pan.
Bake 8-10 minutes, or just until edge is lightly browned. Remove from pan to wire rack to cool completely.
Kitchen tips
Check your spices before starting a recipe. You won't get optimum flavor from a product past its prime.
To maintain good quality spices:
Keep containers away from heat, moisture, and direct sunlight. These elements hasten the loss of flavor and aroma. Avoid storing over the stove, dishwasher, sink or near a window.
Make sure the measuring spoon is completely dry when you dip it into the bottle. Moisture introduced into the bottle will also result in caking and flavor loss.
To check for freshness:
The shelf life for extracts is about 4 years, except vanilla extract, which has an unlimited shelf life.
The shelf life of properly stored spices and herbs is approximately 4 years for whole spices, 2-3 years for ground spices and 1-3 years for leafy herbs, depending on the herb.
SOURCE: McCormick & Co.