Strawberry Lemonade Ice Cream Sundae with Oatmeal Crumble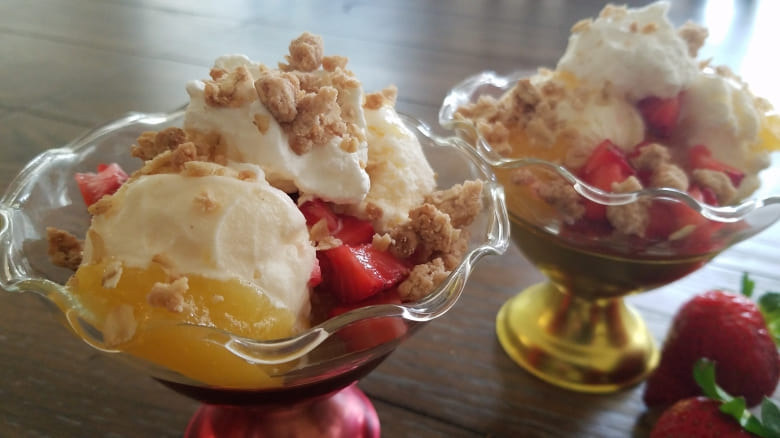 15

8

23

8
It's Sundae Funday all over the country. Happy National Ice Cream Sundae Day, a day that celebrates scoops of dairy deliciousness dripping with tantalizing toppings. You may not realize the history of this seemingly ordinary dessert has a bit of a twisted and deceptive past, according to the Farmers' Almanac.
The history of the ice cream sundae can be traced to U.S. Blue Laws that restrict activities that could be considered sinful on Sunday, the observed Sabbath of Catholic and many Protestant sects.
Soda sales were among the indulgences frowned upon in the 1800s and drug stores had a booming business in ice cream sodas such as root beer floats and more. To get around the ban, chocolate sauce and fruit syrups soon replaced the soda to create alternative treats.
No matter how you look at indulgences, the ice cream sundae is a heavenly dessert with an endless variety of variations. Here's to summer Sundae Fun Days.
How to know how much ice cream to buy
1 scoop of ice cream is roughly 1/2 cup.
There are 2 cups in a pint for 4 scoops of ice cream.
There are 4 cups in a quart for 8 scoops of ice cream.
Recipe provided by Heather McPherson from Heather's Florida Kitchen.

Print Recipe
Ingredients
1 (10-ounce) jar lemon curd (see below for instructions)
1 quart vanilla ice cream
1 cup heavy cream, whipped to stable but soft peaks
1 cup freshly diced strawberries
Oatmeal crumble:
1/2 cup all-purpose flour
1/4 cup packed dark brown sugar
1/4 teaspoon baking powder
1/4 teaspoon ground cinnamon
Pinch of fine sea salt
1/3 cup, plus 2 tablespoons old-fashioned oats
1/4 cup unsalted butter at room temperature, cut into pieces
Preparation
For the crumble, preheat oven to 375F. Line a rimmed baking sheet with parchment paper.
Whisk flour, brown sugar, baking powder, cinnamon, and salt. Add butter and work into dry mixture with two knives, a pastry blender, or your fingertips until pea-sized lumps form. Add oats and mix until clumps form. Chill 15 minutes.
Spread mixture on the parchment-lined pan and bake 8 minutes. Halfway through baking time, stir and toss mixture. Remove from oven. Pour mixture on to another rimmed baking sheet and let cool completely.
To assemble sundaes, add a scoop of ice cream to 8 chilled glass dishes. Spoon some of the curd on top and around the ice cream scoops. Divide the strawberries among the bowls and top with the crumble.
Lemon Curd*
Fill a medium saucepan with a few inches of water and place over medium-high heat.
Combine 5 cage-free egg yolks and 1/2 cup sugar in a heat-proof bowl that's slightly bigger than the saucepan. Place bowl atop saucepan.
Whisk yolks 1 minute, then add lemon zest and juice of 4 lemons (you should have about 1/3 cup fresh juice). Whisk 6 to 8 minutes, or until mixture thickens.
Remove from heat and add butter 1 stick of chilled butter -- 1 small piece at a time -- stirring until fully melted before adding the next piece. Cool.
Recipe notes:
Leftover crumble can be frozen for other uses, such as topping summer fruit pies and puddings.
To save time, omit the from-scratch crumble and use your favorite granola cereal or crumbled granola bar
If you don't have enough small bowls, serve in chilled clear glass rocks or other short beverage glasses.
*This recipe comes from "Field to Feast, Recipes Celebrating Florida's Farmers, Chefs, and Artisans," by Pam Brandon, Katie Farmand, and Heather McPherson (University Press of Florida). You can add more sugar if you prefer a sweeter taste, but we like the tang.