White Chocolate Christmas Tree Cupcakes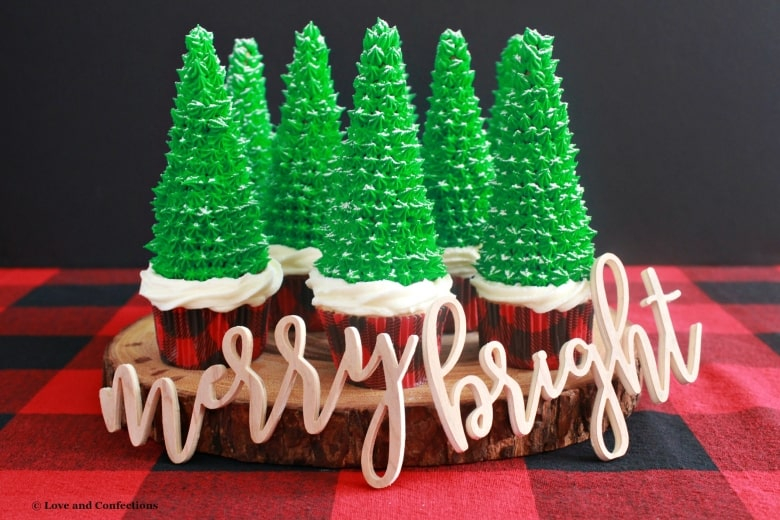 30

25

55

8

Print Recipe
Ingredients
2 1/2 cups all-purpose flour
2 tablespoons cornstarch
1 teaspoon baking powder
1/2 teaspoon baking soda
1 teaspoon salt
6 ounces white chocolate, finely chopped
1/2 cup hot water
1 cup (2 sticks) butter, softened
1 3/4 cups granulated sugar
4 eggs, separated
1 teaspoon vanilla extract or vanilla bean paste
1 cup milk + 2 teaspoons lemon juice, prepared ahead
1 cup (2 sticks) unsalted butter, room temperature
3-4 cups powdered sugar, sifted
1 1/2 teaspoons vanilla extract
2-3 tablespoons milk
green royal icing
sugar ice cream cones
Preparation
Heat oven to 350F. Prepare muffin tins with baking cups and set aside.
In a medium bowl, whisk together the flour, cornstarch, baking powder, baking soda, and salt. Set aside.
Melt chocolate according to package directions, either in microwave or double boiler. Once melted, whisk in hot water to thin chocolate.
In large bowl, or bowl of your stand mixer, beat butter and sugar together until light and fluffy. Add in egg yolks one at a time, scraping down the sides of the bowl after each addition. Mix in vanilla bean paste and white chocolate.
Add flour and homemade buttermilk alternating, beginning and ending with the flour.
In separate bowl, beat egg whites until stiff peaks form. Slowly add into cupcake batter, folding 1/3 in at at time.
Using a cookie scoop, portion batter into prepared muffin tin and bake for 22-25 minutes, or until a toothpick inserted into the center comes out clean. Cool in tin for 10 minutes, then remove to wire rack to cool completely.
To make frosting, cream butter until light and airy. Add powdered sugar slowly one cup at a time, alternating with milk, scraping down the sides between additions. Mix in vanilla extract then whip until light and airy. pipe onto cupcakes.
You can either pre-pipe the ice cream cones, or place the sugar cone onto the cupcake and pipe directly onto it after assembled. Using a small star tip, pipe green royal icing around cones to resemble a tree. Dust with powdered sugar or luster dust.