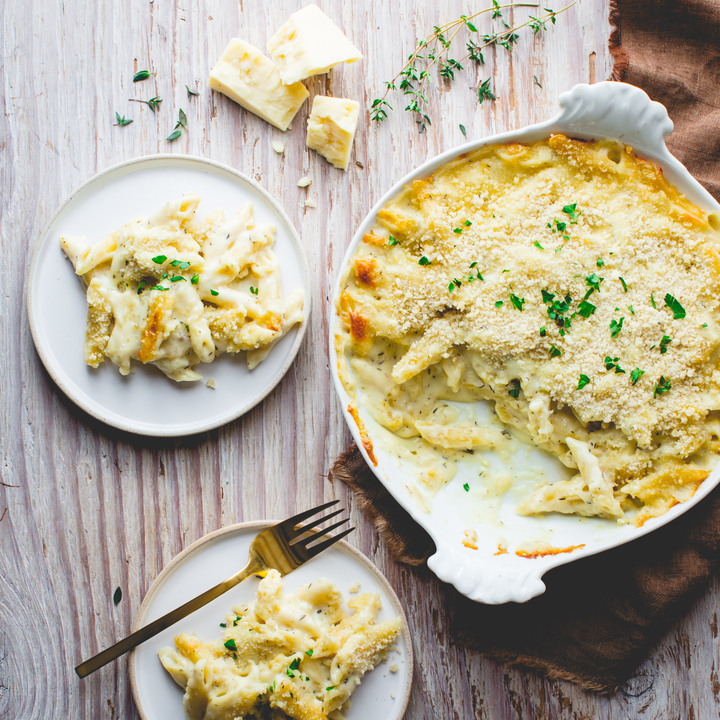 15

30

45

12

Print Recipe
Ingredients
1 lb. penne, large elbows or shells

4 cups milk, warm

16 ounces Cabot Alpine Cheddar, grated (about 4 cups)

8 tablespoons (1 stick) Cabot Salted Butter

8 tablespoons King-Arthur All-Purpose Flour

1 cup of Panko bread crumbs

2 or 3 cloves of fresh garlic, minced

1 teaspoon oregano (dried)

1 teaspoon thyme (dried)
Preparation
Preheat oven to 375°F degrees.

Cook noodles until al dente, drain, place in a large bowl and set aside.

Melt the butter in a heavy-bottomed pot or saucepan over medium heat. Add the minced garlic and cook until the garlic starts to soften and brown a little. Stir in the flour, a little at a time, with a whisk until it is well blended. Continue stirring, letting it cook for a minute or two. Slowly add the warm milk and keep whisking for another couple of minutes. Adjust the heat to low. Add the cheese and stir with whisk or spoon until it melts and is blended into the mixture. Add the herbs and cook while stirring for 3 or 4 minutes.

Add about half of the sauce to the pasta when the sauce is done and mix well. Add remaining sauce and blend.

Place the mixture in a lightly greased 13 x 9 inch baking dish. Top with the breadcrumbs until the top of the pasta is lightly covered. Place in the pre-heated oven and bake for 20 to 25 minutes or until hot and bubbly.