BBQ Chicken Bubble Up Bake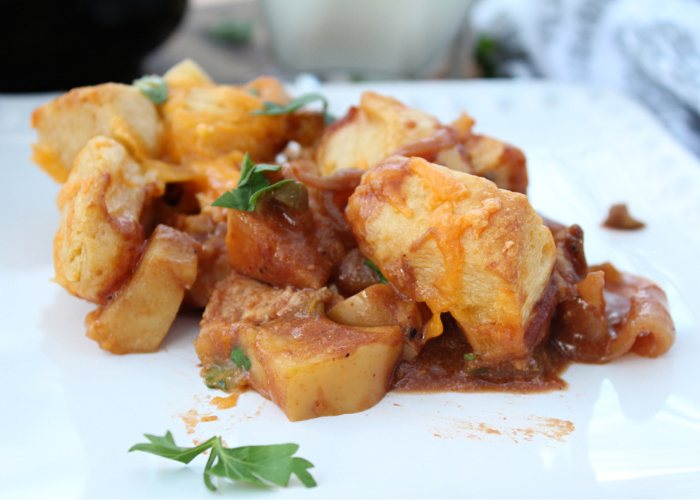 15

40

55

6

Print Recipe
Ingredients
1 package Grand Refrigerated Biscuits - I used the honey butter flaky layers
2 medium sweet onions, thinly sliced
1 jalapeno, diced - seeds removed if desired
3/4 cup barbecue sauce
1 1/2 lbs cooked chicken, diced
1 cup 2% Florida milk
1 cup shredded cheddar cheese
1 apple diced - I used a gala
1 tsp flour
1/2 tablespoon olive oil - I used extra virgin
Preparation
Preheat oven to 350°F. Spray 13x9-inch baking dish with cooking spray and set aside.
In a large skillet, heat olive oil and add onion slices.
Cook onions until they are caramelized.
While onions are cooking, separate the biscuits and cut each one into 6 pieces.
Once onions are nice and caramelized, add in the diced jalapeno.
Sprinkle in the flour, stir well.
Slowly pour in milk, stir well.
Add in BBQ sauce, stir well.
Add in diced chicken and diced apple, stir to coat.
Carefully pour the BBQ chicken mixture into prepared baking dish. Stir again if needed.
Top with biscuit pieces.
Sprinkle on cheddar cheese.
Bake for 25 - 30 minutes until top of biscuits are golden brown.
Enjoy!