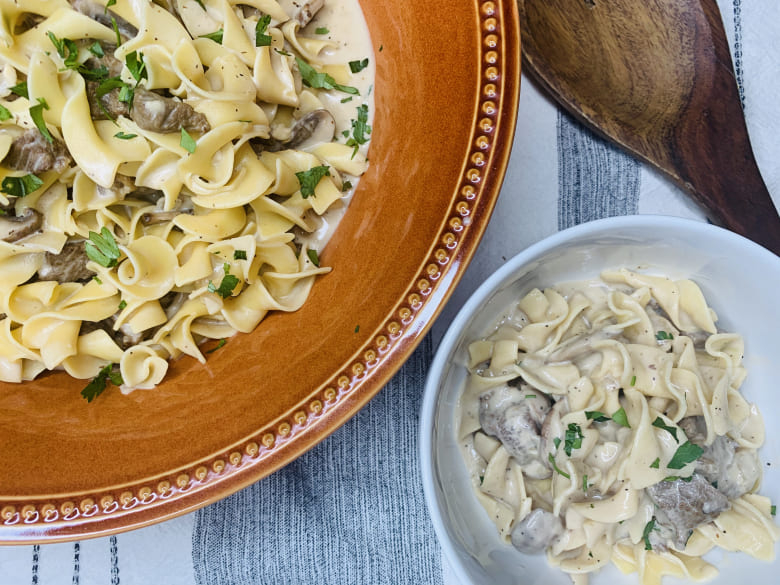 10

20

30

6

Print Recipe
Ingredients
2 pounds round steak, cut into thin strips
1 medium onion, small dice
1 cup mushrooms, sliced
2 garlic cloves, thinly minced
3 tablespoons vegetable oil
2 tablespoons butter
2 tablespoons all-purpose flour
2 cups beef broth
2 cups milk
1 tablespoon Dijon mustard
1 tablespoon Worcestershire sauce
Salt and black pepper to taste
1 cup sour cream
12 oz egg noodles
Preparation
Cook egg noodles per package instructions. Drain and set aside.
Heat vegetable oil in pan on high.
Season steak with salt and black pepper, add steak to hot pan and saute until brown on all sides. Remove and set aside.
On medium heat, add the onions, mushrooms, and garlic and saute until brown, about 3 minutes.
Add the butter and flour and cook for 1 minute.
Add the beef stock, milk, Dijon mustard, and Worcestershire sauce. Stir and simmer for 10 min until the sauce is thickened.
Add steak back to mixture.
Before serving, add sour cream and mix steak until fully incorporated. Stir in the pasta and serve. Garnish with chives or parsley.