Chicken and Vegetable Cream Lasagna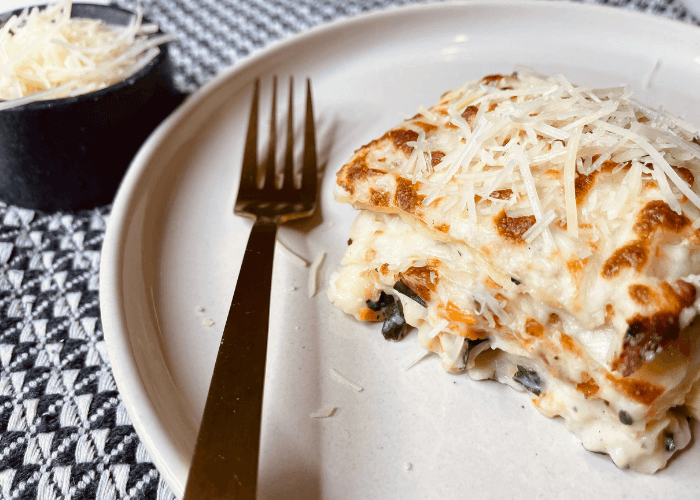 10

50

60

5

Print Recipe
Ingredients
For the sauce:
1 pound boneless chicken breast, cut into small even cubes
1 medium onion diced
2 garlic cloves, minced
2 cup corn kernels or vegetable medley
2 cup frozen spinach, thawed and drained
2 cups of milk
1/4 cup flour
4oz cream cheese
Salt and black pepper to taste
1 teaspoon dried basil
Olive oil for cooking
For the lasagna:
3 cups freshly grated Mozzarella cheese
12 lasagna sheets, cooked and drained
Parmesan cheese for garnish
Preparation
Preheat oven to 350'F

For the sauce, bring a large dutch oven to medium high heat and drizzle with olive oil. Add the chicken and cook until it is golden brown, about 6 minutes. Add the onion, garlic, and season with salt and pepper, cook for about 2 more minutes.

Sprinkle in the flour and cook for about 1 min or until flour has cooked and has combined with the chicken mixture. Add the milk, stir, and lower to medium low heat. Cover for 5 minutes so that the sauce can thicken. Add the vegetables, spinach, cream cheese, and season with dried basil and mix until fully combined. Remove from the heat and set aside.

In a 9x13 pan, layer the lasagna sheets, followed by a layer of the chunky chicken and vegetable sauce, and then sprinkle with mozzarella cheese. Repeat about 4 times until you have assembled the lasagna. Top with any remaining extra cheese on top.

Bake for 25 minutes or until the cheese is golden brown. Serve warm. Sprinkle with Parmesan cheese.
Note: You can have fun with this recipe by adding in your favorite cheeses and vegetables. You can also use turkey, or ham instead of chicken.