Chile Lime Chicken Skewers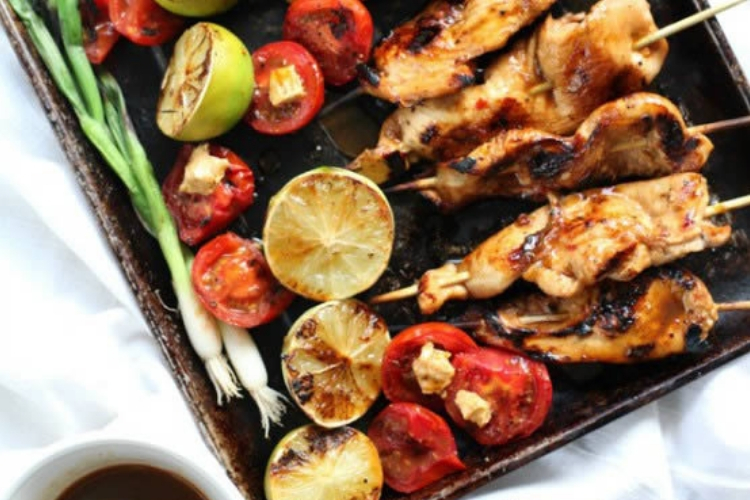 25

15

40

6

Print Recipe
Ingredients
For the chile lime butter:
½ cup salted butter, 2 cubes, at room temperature
2 tablespoons lime zest, about 2 medium limes
2 tablespoons lime juice, from 1 lime
1 ½ teaspoon chili powder
1 teaspoon chipotle chile powder
For the skewers:
2 skinless, boneless chicken breasts
¾ cup lemon flavored ponzu
¼ cup light brown sugar
¼ teaspoon red chili pepper flakes
freshly ground black pepper
4-6 cocktail tomatoes, halved
3-4 limes, halved
4-6 whole green onions
Preparation
In small bowl, combine butter, lime zest, lime juice, chili and chipotle powders until well mixed. Lay out large piece of plastic wrap on clean counter. Spoon butter mixture onto bottom third of plastic wrap and roll into log. Refrigerate for 1 hour or until firm.
Slice chicken breasts lengthwise into ½-inch slices, about 6 slices per breast. Gently pound out chicken to flatten. Mix ponzu, brown sugar, red chili pepper flakes and freshly ground black pepper in large bowl. Add chicken to bowl and marinate for at least 30 minutes or up to 3 hours in refrigerator.
If using wooden skewers, soak them in water for 30 minutes so they don't burn on the grill.
Thread chicken slices onto wooden skewers. Reserve marinade and boil until reduced by half. Add half of chile lime butter log to marinade and mix to combine. Set aside.
Bring grill to high heat and oil it lightly. Place chicken skewers on grill along with tomato halves, lime halves and green onions. Cook chicken and vegetables for about 2 minutes, then turn. Brush chicken with chile lime butter marinade and turn again after about 2 minutes. Remove vegetables from grill when cooked and top with thin slices of chile lime butter. Remove chicken from grill, brush with more marinade and a squeeze of grilled limes if desired and serve.
Nutritional Information

1

227

13
DAILY VALUE
13g

Total Fat

2g

Saturated Fat

65mg

Cholesterol

3.2g

Carbohydrates