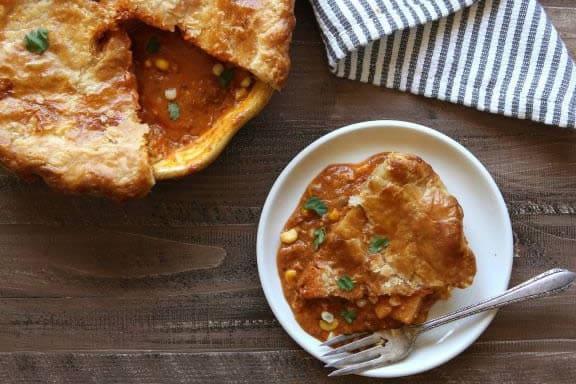 30

30

60

6

Print Recipe
Ingredients
For the Crust:
1 1/4 cups all-purpose flour
1/2 teaspoon salt
1/2 cup (1 stick) unsalted butter
1/4 cup ice-cold water
For the Filling:
8 ounces ground beef or pork chorizo
2 tablespoons butter
1 small yellow onion, chopped
1 clove garlic, minced
2 cups beef or vegetable broth
2 cups chopped potatoes
1 cup corn, fresh or frozen
1 tablespoon chopped fresh cilantro
1 teaspoon salt, or to taste
1/4 teaspoon ground pepper
Preparation
For the Crust:
Combine flour and salt in medium bowl. Add butter and use pastry blender to work it into the dry ingredients until it's the size of small peas. Add water and stir until it comes together into stiff dough. Add more water 1 teaspoon at a time, if needed, but it is okay if the dough is a little crumbly. Wrap in plastic wrap and chill in fridge for at least 2 hours.
For the Filling:
Heat skillet over medium heat. Cook chorizo until browned, about 5 minutes, stirring often. Remove from skillet and set aside. Drain off any drippings.
Melt butter in skillet and add onion. Cook until translucent, about 3-4 minutes. Add garlic and cook for one minute more. Add flour and whisk until it forms a thick paste. Add stock a little at a time, while whisking constantly, until it is all incorporated and smooth.
Add potatoes, corn and cilantro. Season with salt and pepper. Bring to a boil and cook for about 5 minutes.
To assemble pot pie, roll chilled crust out on lightly floured surface about 11 inches wide. Butter 9-inch pie dish and add filling. Place crust on top of filling. Tuck edges under and crimp as desired. Cut a few small holes in the crust to allow the filling to vent.
Place pot pie on parchment or foil-lined sheet pan and bake at 400°F for 30-35 minutes until crust is browned and filling is bubbling through vents. Allow to cool slightly before serving.