Creamed Poblano and Spinach Stuffed Steak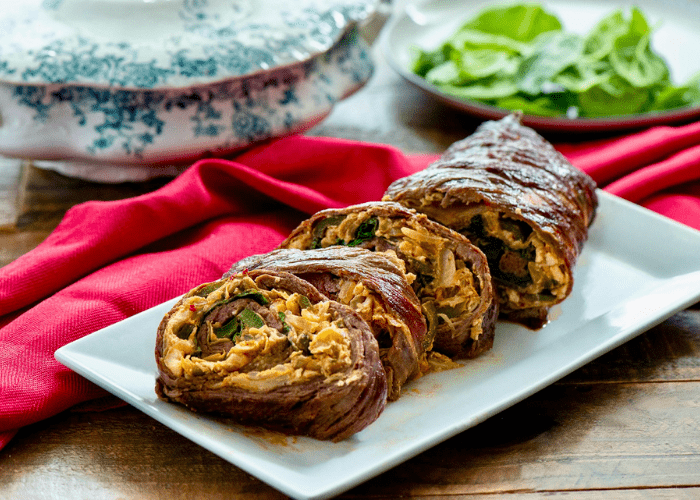 20+chilling

46

66+chilling

6

Print Recipe
Ingredients
1.5 pounds flank steak
1 cup milk
1 teaspoon salt
½ teaspoon pepper
1 tablespoon butter
1 tablespoon olive oil, plus extra for brushing
1 large vidalia onion, sliced
1 poblano pepper, seeded and cut in strips
3 garlic cloves, minced
1 jar (5oz) marinated artichoke hearts, drained and chopped
2 tablespoon sundried tomatoes, chopped
4 oz crumbled feta cheese
¼ cup parmesan cheese
¼ cup of sour cream
Salt and Pepper to taste
2 cups fresh spinach leaves
Preparation
Place the steak on a cutting board. Holding a knife parallel to the board and starting at one long side, cut three quarters of the way through and open up the steak like a book. Place a piece of plastic wrap over the meat. Gently pound with a meat mallet or rolling pin until the meat is of even thickness. Sprinkle with salt and pepper. Place the meat in a small shallow baking dish. Pour the milk over the meat. Cover and refrigerate for 3 hours or overnight.

Pre-heat the oven 425 F. Insert a cast iron skillet or a baking sheet in the oven to pre-heat

Heat the butter and oil in a large sauté pan, over medium high heat. Add the onions and poblano and sauté for about 8 minutes. Add the garlic and cook until fragrant, about a minute. Add the artichokes, sundried tomatoes, mix well and cook until heated through and all the flavors are combined, about 5 minutes. Remove from heat and mix in the feta, Parmesan and sour cream. Season with salt and pepper to taste.

Remove the meat from the baking dish. Pat dry with paper towels. Discard the marinade. Place the meat on a work surface. Spread the onion and poblano mixture over the top of the meat, leaving a 1-inch border. Layer the spinach over the mixture. From a short side, carefully roll the meat jelly-roll style. Tie with kitchen string at 1-inch intervals. Brush the meat with oil and sprinkle with salt and pepper.

Remove the skillet or sheet pan from the oven carefully. Place the meat on the skillet, seam side down. Return to oven and bake for 25 minutes. Turn the oven to broil and broil for 5-10 minutes. Remove from oven and allow steak to rest before removing twine and slicing with a serrated knife. Slice in 6 pieces and serve.