Creamy Harvest Pasta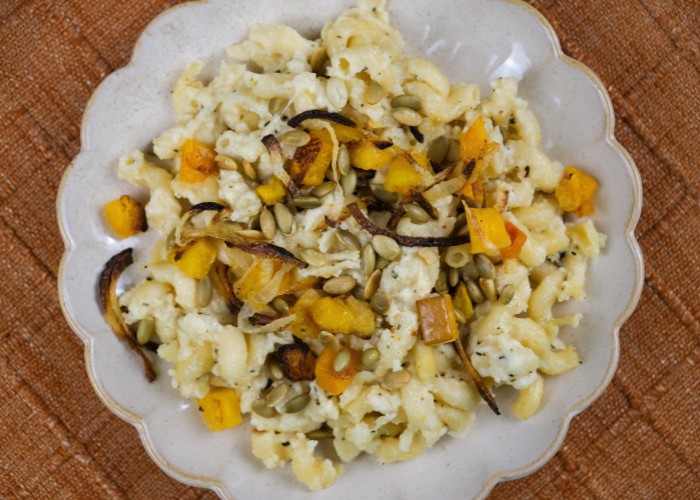 5

30

35

3

Print Recipe
Ingredients
2 cups milk
3/4 cup Parmesan cheese
1/2 cup shredded low-fat mozzarella cheese
1/4 tsp dried rosemary
3 oz dry chickpea pasta
1.5 cups frozen butternut squash cubes
1 onion
1/4 tsp garlic powder
1/4 tsp salt
2 tsp extra virgin olive oil
1/8 cup pumpkin seeds or pepitas
Preparation
Oil a baking sheet with extra virgin olive oil. Place sliced onions and butter squash cubes on the pan and season them with salt and garlic powder.
Mix it so that all vegetables are seasoned, and place the pan in the oven at 400° for 30 minutes or until the butternut squash is lightly browned.
In the meantime, boil the pasta according to package instructions.
In a separate large pan, add the milk.
Once the milk is warm, add the Parmesan and mozzarella cheeses. Mix until the cheese melts and the sauce thickens. Season the creamy sauce with rosemary, mix it in, and set aside.
Drain the pasta and place it in the pan with the creamy sauce. Fold the pasta into the sauce until it's all coated with it.
Once the vegetables are roasted, plate the pasta and top with roasted butternut squash and onions.
Garnish with pumpkin seeds and serve warm.