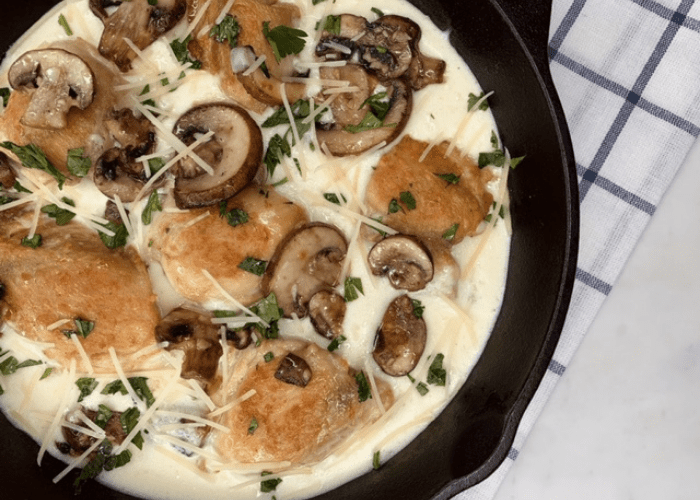 10

25

35

6

Print Recipe
Ingredients
5-6 boneless skinless chicken thigh
8 ounces mushrooms (any type)
1/4 cup butter
2 Garlic cloves, minced
4 tablespoons all purpose flour
2 cups whole milk
1 cup parmesan cheese, shredded
Salt, and black pepper
Olive oil
Preparation
Bring a medium skillet to high heat. Season chicken on both sides with salt and pepper. Drizzle olive oil on the skillet and add the chicken allowing it to sear on both sides, about 4 minutes per side.

Remove chicken from pan and add the mushrooms and garlic and sauté until cooked, about 3 minutes. Remove and set aside.

On medium heat utilizing the same pan, add butter, and once melted add the flour and stir until fully combined. Add the milk to the pan and whisk until sauce has thickened, about 4 minutes. Add the cheese and mix until cheese has melted. Season with salt and pepper to taste. Add the chicken and mushrooms back to the pan and allow to cook in medium low heat for about 5 minutes or until chicken is fully cooked.
Possible additives: sun dried tomatoes, spinach, broccoli