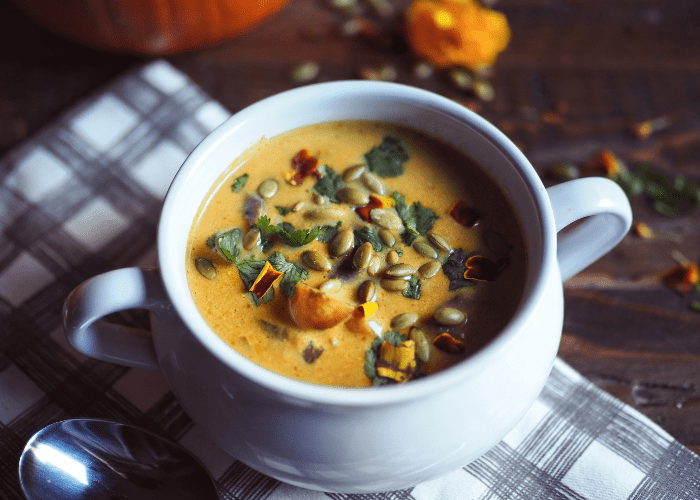 15

35

50

4

Print Recipe
Ingredients
1 pie pumpkin, roasted and mashed OR 1 can pumpkin puree
1 medium sweet onion, diced
2 cloves garlic, smashed and minced
2 stalks celery, diced
5 carrots, peeled and sliced on the bias
1 cup potatoes, diced (we used multi-colored fingerling potatoes)
1 cup butternut squash, diced
32 oz vegetable broth or chicken broth
2-3 teaspoon yellow curry powder of choice
¼ teaspoon smoked paprika
1 ½ cup milk
½ cup heavy cream
2 tablespoon extra virgin olive oil
1 teaspoon sea salt, plus more to taste
Fresh ground black pepper to taste
Fresh cilantro, chopped, for garnish
Pepitas or toasted pumpkin seeds
Preparation
Wash and prep vegetables. If using, roast pumpkin until soft and cooked through.
In a stockpot over medium heat, saute diced onions in extra virgin olive oil until translucent. Add garlic and saute until softened but not browned. Add diced celery and sliced carrots to the pot. Cook until warmed through but do not brown.
Add diced potatoes and diced butternut squash to the pot. Add vegetable broth and 1 teaspoon salt. Stir and cover the pot and simmer 10-15 minutes until all vegetables are cooked through and potatoes and carrots are fork-tender.
Add 2 tsp curry powder and ¼ tsp smoked paprika to soup and stir to incorporate. Turn off heat, add 1 ½ cup milk and ½ cup heavy cream, and stir until milk and cream are warmed through.
Add ½ - 1 teaspoon of curry powder and salt and pepper to taste.
Divide chowder into bowls. If desired, garnish with pepitas or toasted pumpkin seeds to serve.