Easy Slow Cooker Creamy Chicken Pasta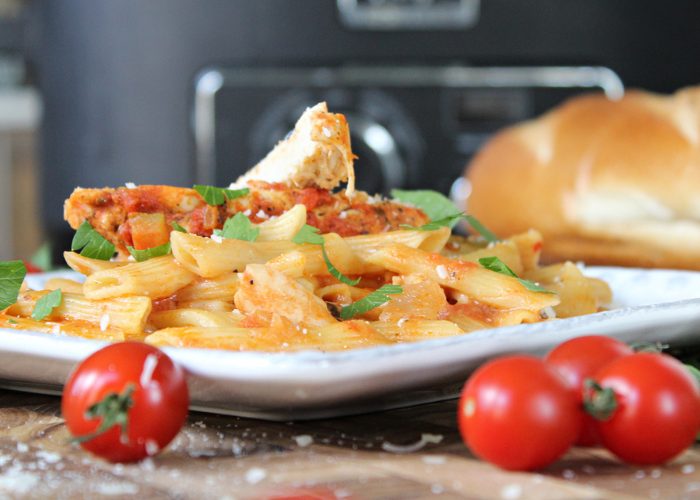 5

240

245

7

Print Recipe
Ingredients
2 lbs boneless skinless chicken breast
6 oz Penne Pasta or your favorite short noodle pasta
1 1/2 cups 2% milk
1 Vidalia onion diced
1 tablespoon DUST by VooDoo Chef or use Italian Seasoning
1/4 tablespoon red pepper flakes
26 oz your favorite marinara sauce jarred or homemade
26 oz loq sodium chichen broth
fresh parsley and shredded Parmesan for garnish if desired
Preparation
Season the chicken breasts with DUST seasoning red pepper flakes.

Add diced onion to the bottom of the slow cooker.

Place the chicken in an even layer in the bottom of a 6 or 7 quart slow cooker.

Add the lid, and cook on high for 3 hours.

After 3 hours, remove the chicken and either shred it or cut it into slices or cubes.

Return the chicken to the slow cooker.

Pour in marinara sauce.

Fill the empty marinara sauce jar with chicken broth, close the lid, and give it a shake so that you get all the sauce from the jar, then pour the chicken broth into the slow cooker.

Add the pasta and milk.

Press the noodles down to make sure they are submerged in the sauce.

Put the lid back on, change the temperature to low heat, and cook for an additional 45 minutes. Be sure to stir occasionally to make sure the noodles are evenly cooked.

Serve hot with a side salad and bread.

Sprinkle with fresh parsley and shredded Parmesan cheese if desired.

Enjoy!