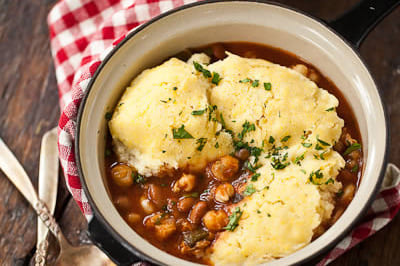 Print Recipe
Ingredients
Preparation
Recipe by Bold with Butter
Yield: 6-8 Servings
Ingredients:
For the chili:
1 tablespoon butter
1 pound raw turkey or chicken chorizo, casings removed
1 onion, chopped
1 poblano chile, seeded and chopped
3 garlic cloves, finely chopped
2 teaspoons ground cumin
1 teaspoon paprika
1 teaspoon dried oregano
1 teaspoon salt plus more to taste
¼ teaspoon ground chipotle chile
1 (29-ounce) can hominy, drained
2 (15-ounce) cans pinto beans, drained
1 (15-ounce) can tomato sauce
1 ½ cups chicken broth
Chopped green onions and cilantro for garnish
For the dumplings:
1/2 cup all-purpose flour
½ cup fine cornmeal
1 teaspoon baking powder
½ teaspoon salt
3 tablespoon melted butter
1 egg, lightly beaten
1/3 cup buttermilk
Directions:
Melt butter in a large pot or Dutch oven over medium heat; crumble in chorizo. Cook, stirring occasionally, until chorizo is no longer pink; remove to a plate with a slotted spoon.
Cook onion in remaining fat until softened; stir in poblano, garlic, cumin, paprika, oregano, salt and chipotle and cook 1 minute.
Add hominy, pinto beans, tomato sauce and chicken broth along with chorizo; bring to a simmer, then lower heat and cook, partially covered, 30 minutes. Taste and season with salt, if needed.
To make dumplings, stir flour, cornmeal, baking powder and salt together in a medium mixing bowl; pour in butter, egg and buttermilk; mix until dough comes together. Scoop about 8 portions of dough to cover surface of simmering chili. Cover and cook gently until the tops of dumplings are puffed and dry to the touch.
Serve in bowls sprinkled with green onions and cilantro.