Pasta with Ricotta, Garlic Confit, Spinach, and Lemon Zest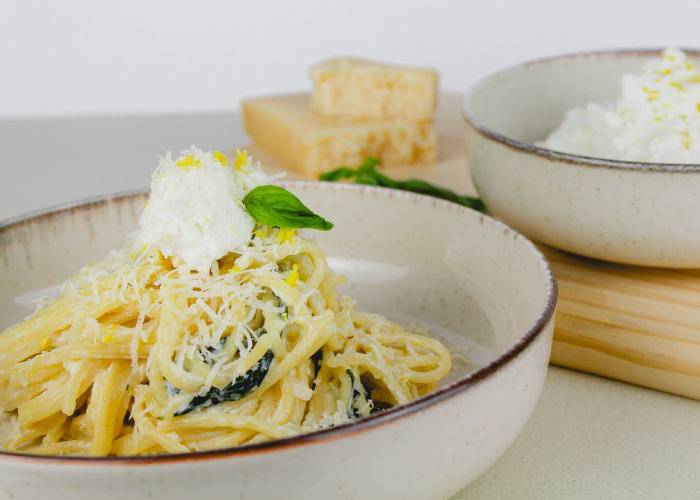 15

45

60

4

Print Recipe
Ingredients
2/3 cup olive oil
1/2 cup grated parmesan cheese
1 bulb garlic
1 lemon (zested and juiced)
250 gr. spaghetti
2 cups baby spinach
Salt & pepper to taste
Basil leaves for decoration (optional)
Preparation
For the garlic confit, separate the heads of garlic, trim the ends and then peel each clove. Place the peeled garlic cloves in a small saucepan, cover with the olive oil, and place over very low heat on the stove. The oil should be simmering slowly. Continue to cook the garlic in the oil over very low heat, stirring carefully every few minutes, for 15 to 30 minutes, until cloves are tender and cooked through.
Crush the garlic confit in a mortar, add in half of the ricotta and some salt, and incorporate the grated parmesan, lemon juice, lemon zest, and the oil used for the garlic.
Bring a large pot of very well-salted water to a boil. Cook the spaghetti according to the package directions. When the spaghetti is al dente, stir in the spinach and cook for an extra minute. Reserve 1 cup of pasta water and drain the spaghetti.
Return the spaghettis to the pot on low heat. Pour in the ricotta mixture and 1/4 cup of pasta water, tossing until everything looks combined, adding more pasta water as needed. Top with the remaining ricotta and plate with extra parmesan, lemon zest, and basil leaves!… enjoy!