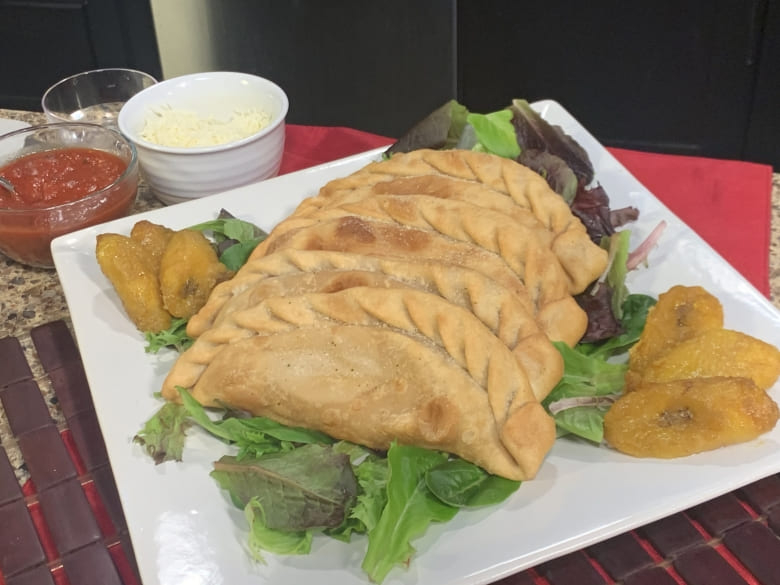 5

20

25

5
Created by Florida Dairy Farmer's Own Diahann Smith!

Print Recipe
Ingredients
10 empanadas dough discs
1/2 cup pizza Sauce
16 ounces shredded mozzarella cheese
20 slices of large pepperoni
Garlic salt
Preparation
Place two pieces of peperoni overlapping in the center of the dough disc.
Spread about 1.5 tbsp of pizza sauce in the center making sure it does not reach the edges of the dough.
Cover with about 2 tbsp. of shredded mozzarella cheese.
Wet your index finger and trace around the edge of the dough. This will help with sealing the filling, so it does not open while frying.
Fold over dough in half and press edges to seal. Crimp edges with a fork.
Place parchment paper between each empanada so they do not touch and save in the fridge.
To cook, heat 1/2 inch of oil in a frying pan over medium heat to about 345 degrees. Add empanadas to pan, one or two max. Cook for about 2 minutes, or until golden brown. Flip empanada and cook for another 2 minutes. Drain on paper towels.
Sprinkle with garlic salt immediately after taking out from the oil while they are still a little wet from the oil so the garlic slat sticks to it.
Continue the process until all the empanadas have been fried.
Serve with extra pizza sauce on the side and enjoy.
Notes: Take sure your dough discs area not frozen before you separate them. Spend the extra few cents and buy the discs that have the dividers between each disk. Customize by adding your favorite pizza toppings like veggies, meats, or other cheeses.