Quinoa Chorizo Stuffed Peppers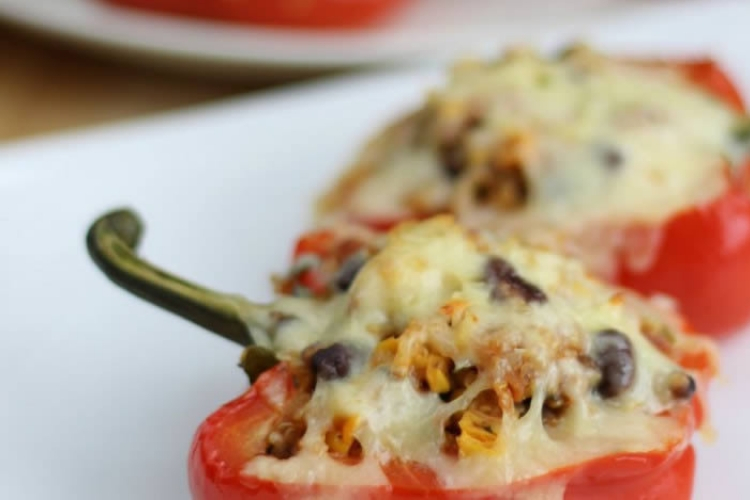 10

20

30

6

Print Recipe
Ingredients
4 large red bell peppers
1 1/2 tablespoons butter, melted
1 1/2 tablespoons butter
1/2 cup onion, diced
2 garlic cloves, minced
1 cup uncooked, pre-rinsed quinoa
1 1/4 cups reduced-sodium chicken broth
1 14.5-ounce can diced tomatoes
1 jalapeño pepper, seeded (optional) and minced
1 rounded teaspoon ground cumin
1/2 teaspoon chipotle chile powder
1/2 teaspoon salt
1 tablespoon vegetable oil
1/2 pound fresh Mexican chorizo, casings removed if needed
1 15.5-ounce can black beans, rinsed and drained
1 1/2 cups frozen corn kernels
1/4 cup chopped fresh cilantro
2 cups shredded Monterey Jack cheese
Additional chopped fresh cilantro (optional)
Sour cream (optional)
Preparation
To make peppers:
Preheat oven to 400°F.
Halve peppers lengthwise through stems, leaving stems attached. Remove seeds.
Lightly brush peppers outside and inside with melted butter. Sprinkle insides with salt and pepper.
Place, cut-side down, in 9-by-13-inch baking dish. Bake until peppers are just tender, 10 to 15 minutes.
Let cool slightly. Turn cut-side up and set baking dish aside.
To make filling:
In large saucepan, melt remaining butter over medium-high heat.
Add onion and sauté until tender. Add garlic and stir constantly until fragrant – about 30 seconds.
Add quinoa, chicken broth, tomatoes, jalapeño, cumin, chipotle and salt. Bring to boil. Reduce heat to low, cover and simmer for 20 – 25 minutes.
Meanwhile, heat oil in large sauté pan over medium heat. Add uncooked chorizo and cook for about five minutes, breaking up chorizo into pieces, until meat is fully cooked.
Add black beans and frozen corn and stir until heated through. Set aside.
When quinoa is cooked, add quinoa mixture and cilantro to chorizo mixture and stir to combine. Fill pepper halves with filling.* Divide Monterey Jack cheese between peppers.
Add 2 tablespoons water to baking dish. Cover peppers with foil and bake until heated through, 15 to 20 minutes. Uncover and bake for 5 minutes more.
Serve hot. Top with sour cream and additional cilantro if desired.
*Depending on the size of your peppers, you may have leftover filling. It makes a delicious lunch or filling for burritos.
Make ahead: Peppers can be stuffed ahead and stored, covered, in the refrigerator for up to two days. Add cheese before baking.