Savory Cocoa Pasta with Gorgonzola Cream Sauce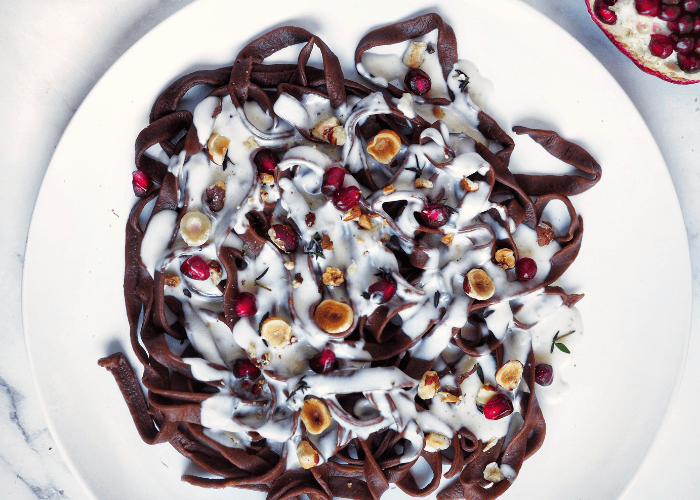 30+chilling

10

40+chilling

6

Print Recipe
Ingredients
Pasta Dough
1.5 Cup All Purpose flour, more to flour surface (bench flour) 2 Large eggs
1?4 C unsweetened cocoa powder
1/4 teaspoon salt
5 tablespoons water (more or less as needed)
Gorgonzola Cream Sauce
2 tablespoons unsalted butter
2 tablespoons flour
1 cup milk
4-6 ounces Gorgonzola cheese, crumbled 1?2 Cup heavy cream
Salt and Pepper to taste
1/4 cup hazelnuts, toasted and chopped Fresh thyme leaves stripped from stem pomegranate arils to garnish
Preparation
In a medium bowl, whisk together flour, cocoa, sugar, and salt.
Make a well in the middle of the dry ingredients. Add the eggs and 4 tablespoons of water. Mix at first with a fork, then knead with your hands as the dough comes together. The dough transforms from dry and stiff to soft and pliable the more you knead. If it is too dry, add water, a teaspoon at a time. If it is too wet, add more flour as you knead until the dough is smooth and not sticky or tacky.
Form dough into a ball. Cover in plastic wrap and let rest in a cool place for 30 minutes to 60 minutes.
After resting, unwrap the dough and flatten to a disc shape. Cut into thirds. Dust pasta dough with flour on both sides.
Stretch dough in a pasta machine fitted with smooth rollers starting at the 1 setting and working the dough up to a 5 thickness. Dust with flour as needed, then lay the pasta sheets on a floured surface. If pasta sheets are too long, cut in half lengthwise before the next step.
Run each pasta sheet through the fettuccine cutter and gently place in nests on floured parchment or hang on a pasta rack. If the pasta sheets are too long for this stage, cut in half before rolling through the cutter.
Bring a large pot of salted water to a boil, and start to make the sauce. The fettuccine will take 3 to 4 minutes to cook.
In a sauté pan on medium heat melt the butter. Add the flour and whisk constantly until smooth. Cook mixture for 3-4 minutes, until flour is cooked and mixture is a pale golden.
Add milk and cream to the pan, whisking constantly until sauce begins to bubble and thicken, about 5 minutes. Add crumbled gorgonzola and stir to melt the cheese until completely incorporated and the sauce is velvety. Add freshly ground black pepper. If the sauce is too thick, add milk a tablespoon at a time until desired consistency is reached. Taste gorgonzola cream sauce, add salt if desired.
Crush Hazelnuts in a zip-top bag. Check that fettuccine is al dente and add cooked noodles to the Gorgonzola Cream sauce in the sauté pan.
Toss well to make sure the pasta is evenly coated and the sauce is evenly distributed.
Plate pasta, top with crushed hazelnuts. Add a sprinkle of fresh thyme leaves, and if desired, scatter pomegranate arils. Serve immediately and enjoy!