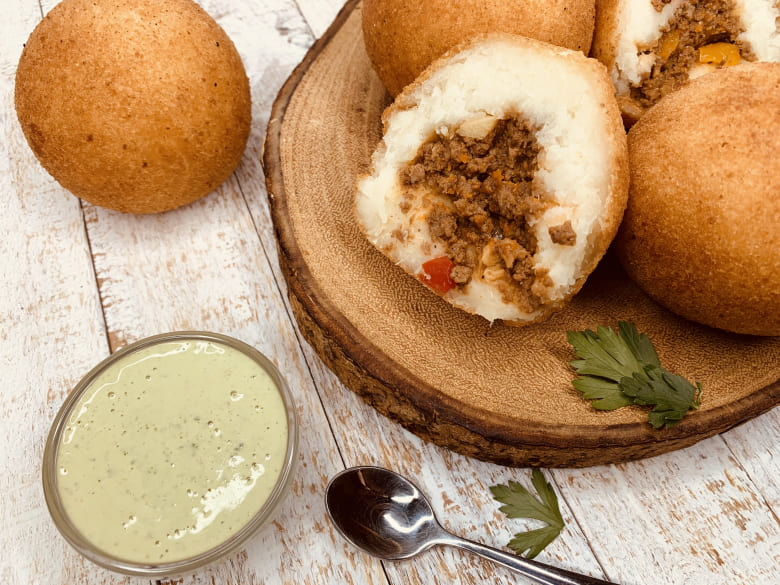 20

45

65

16

Print Recipe
Ingredients
2 pounds frozen or fresh yucca cut into pieces
½ cup cream cheese
1 pound lean ground beef
1 medium onion, small dice
1 bell pepper, small dice
4 garlic cloves, minced
2 tablespoons tomato paste
1 teaspoon of each; cumin, oregano, onion powder, garlic powder
Salt and black pepper
1 cup all purpose flour
1 cup bread crumbs
2 eggs, beaten
Vegetable oil for frying and cooking
For the sauce:
1 cup Greek yogurt
1 bunch of cilantro
3 whole garlic cloves, peeled
3 tablespoons red wine vinegar
Preparation
For the yucca; In a large pot, add yucca and cover with water. Cook on medium high heat until the yucca pieces are fork tender, about 20 minutes. Drain and add the cream cheese and a pinch of salt and mash.
For the picadillo; in a saute pan, add oil and saute the onions, garlic, and peppers until cooked, about 3 minutes. Add the beef, seasonings, and tomato paste. Season with salt and pepper, cook on medium low heat for about 20 min. Set aside and allow to cool.
Shape 1/4 cup of the yucca mash into a ball. Press a hole into the center of the yucca ball with your finger; fill with 2 teaspoons of the meat mixture. Reshape ball to completely enclose filling.
Repeat with remaining mash and meat mixture to form 16 balls; set aside.
For breading, dip yucca balls in flour, and shake off any excess flour, then dip into the egg mixture, and then in the bread crumbs, turning to evenly coat each ball.
Heat oil in a large saucepan on medium-high to 375°F. Carefully add yucca balls, a few at a time; cook 2 min. until golden brown.
Drain on paper towels. Serve warm.
For the sauce, combine ingredients in a food processor. Mix until fully incorporated.
Tips:
Add your favorite shredded cheese such as cheddar, pepper jack, mozzarella to your chilled ground beef mixture to make it extra cheesy.
Prepare in advance and freeze up to 6 months. Fry frozen and make sure the center is fully cooked.