Creamy Toppings for Hanukkah Latkes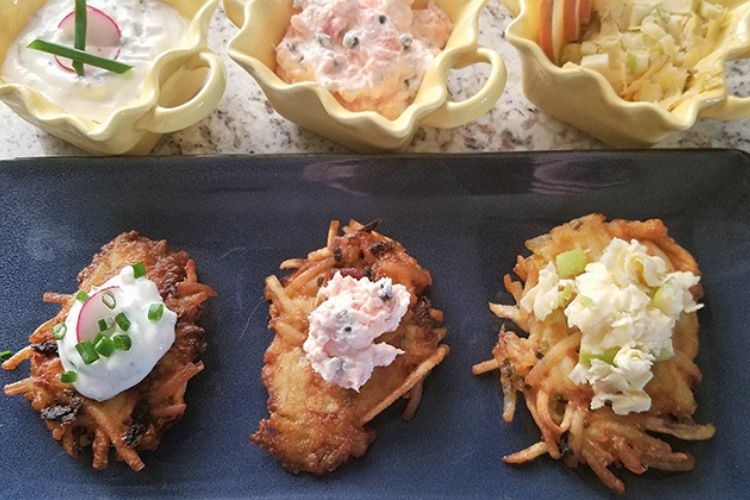 10

5

15

28

Print Recipe
Ingredients
Greek Yogurt & Wild Lox Salmon
7 ounces plain Greek yogurt
3- to 4 ounces smoked wild lox salmon (see note), chopped
2 teaspoons capers, or to taste
Kosher salt and freshly ground pepper to taste
Gouda & Apple
1 cup shredded smoked gouda cheese
1 cup shredded green, Fuji or Gala apple, or a combination
Kosher salt and freshly ground pepper to taste
Sour Cream, Chive & Radish
8 ounces sour cream
5 radishes (or taste), diced small (see note)
1 teaspoon freshly chopped chives, or to taste
Kosher salt and freshly ground pepper to taste
Mixed Vegetable Latkes
2 cups shredded Yukon gold potatoes
1 cup shredded carrots
1 cup broccoli slaw
1 1/4 cups chopped sweet onion
1/2 cup matzo meal
Kosher salt and freshly ground pepper to taste
1 1/4 teaspoons dried Italian seasonings
4 eggs, beaten
Vegetable oil for frying
Preparation
Combine the shredded and chopped vegetables, matzo meal, salt and pepper to taste, Italian seasoning and eggs.
In a nonstick frying pan, heat 1 tablespoon olive oil over medium-high heat. Place about 2 tablespoons or 1/8 cup of the mixture into the pan and fry each latke until golden on each side. Remove from skillet and let drain on paper towels. Transfer to a baking sheet and keep the latkes warm in a 200F until all are cooked, adding more olive oil to skillet as needed.
Serve with toppings as desired.
Greek Yogurt & Wild Lox Salmon
Greek yogurt can sub for cream cheese and sour cream in many dishes. It's soft but firm texture makes this spreadable bliss.
Yield: 1 1/4 cups
With a spatula blend yogurt and lox by hand until the mixture is nice salmon color all the way through.
Fold in capers and season with salt and pepper to taste.
Gouda & Apple
Yield: 2 cups
Think of this as applesauce re-imagined. The shredded cheese melts effortlessly on to the warm latke and the shredded apples lend a nice tangy flavor note.
Combine the grated cheese and apple.
Season with salt and pepper.
Dollop onto hot cooked latkes.
Sour Cream, Chive & Radish
Yield: 1 1/2 cups.
The peppery radish is a nice crunchy surprise to this blend.
Blend sour cream with radishes and chives.
Season with salt and pepper.
Recipe note: To finely dice radishes, cut them as you would a shallot: Crosswise slits to the top, then lengthwise slits across the bulb. With a few slices the radish will yield nice small dice.