Halloween Marshmallow Spiders + Easy Hot Chocolate Recipe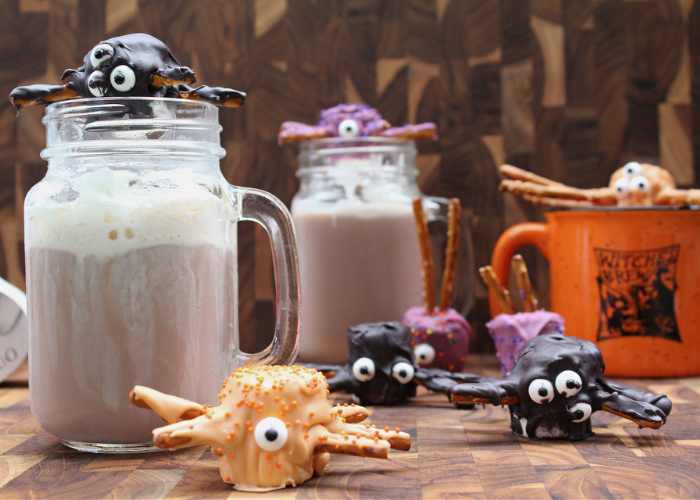 10+chilling

5

15+chilling

Varies

Print Recipe
Ingredients
Melting chocolates

various colors

Coconut oil

Big marshmallows

Pretzel sticks

Candy eyes

Sprinkles

Florida chocolate milk
Preparation
Break the pretzel sticks in half if you would like to have your spiders has shorter legs. I have one big hot chocolate cup, so I left the "spider legs" long for that one.

Melt the melting chocolate according to the directions on the package, add in a teaspoon of coconut oil to make it a bit more "liquidy", this will make it easier to spoon the chocolate over the "legs" and "body" of the spider.

Dip each pretzel stick end into the melted chocolate, then push it into the marshmallow. You aren't covering the whole pretzel at this time, just enough to push it into the marshmallow. The chocolate helps the legs stay in.

Once your "spider" has 6-8 legs, set it aside so that it can dry. Once dry, you can spoon the chocolate over the marshmallow and pretzels sticks. I used a fork to hold the marshmallow, but you can use your fingers. To use a fork, place the marshmallow on the prongs of the fork.

You may have to use the back on the spoon to smooth the chocolate over the whole spider. Don't worry, it doesn't have to be perfect!

Once your marshmallow and pretzel legs is coated give your spider some eyes! We added 3 eyes, we felt that was spookier

????

Top with sprinkles if desired.

Allow them to dry before serving them onto top of your Halloween Hot Chocolate.
Easy Hot Chocolate
Warm Chocolate Milk in microwave at 50% power or on stove.

Top with whipped topping.

Top with Halloween Spider.

Enjoy!
Notes
My kiddos took the marshmallows and dipped them into the melting chocolate and made little Halloween Monsters and Aliens too! Simply add eyes and make antennas with the pretzels.

Have some fun with these!

This is a great way to get the kids in the kitchen having some Halloween fun too!