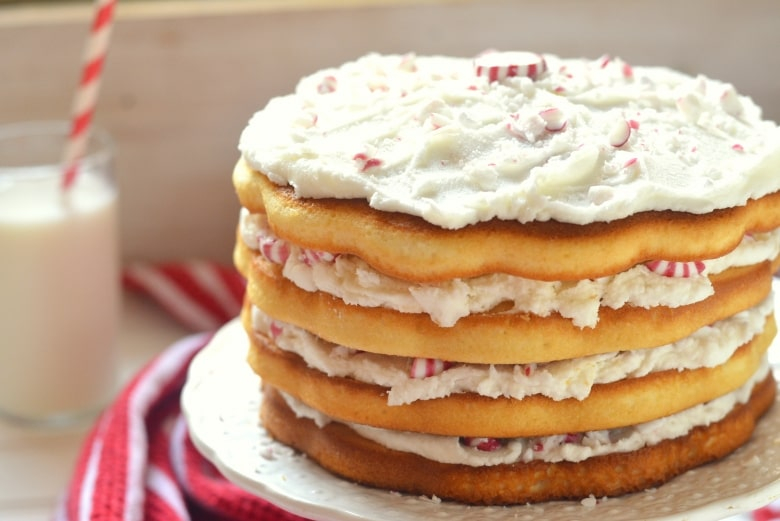 20

30

50

6
A vanilla cake with peppermint buttercream and bits of crushed peppermint candy in the filling.

Print Recipe
Ingredients
1 cup milk
1 stick butter, softened
4 eggs
2 cups granulated sugar
3 cups flour (cake flour preferred)
2 teaspoons baking powder
½ teaspoon salt
1 teaspoon vanilla
For the frosting:
1 cup crushed peppermint candies
1 cup butter, softened
½ cup shortening
4 cups powdered sugar
2-4 tablespoons milk
½ teaspoon peppermint extract
Preparation
Grease 4 8" cake pans.
Preheat oven to 350F.
In a bowl, combine the butter and granulated sugar until fluffy.
Beat in the eggs and vanilla.
In a separate bowl, combine the flour, salt, and baking powder.
Add the dry ingredients alternating with the milk, until the batter is smooth and creamy.
Pour into prepared pans and bake 25-30 minutes, or until a toothpick inserted into the center comes out clean.
Allow to cool and remove from pans.
For the frosting:
Using a stand mixer, combine the butter and shortening.
Beat in the sugar and slowly add the milk, one tablespoon at a time until the frosting is creamy.
Stir in the peppermint oil.
Use the frosting to fill and frost the cake, sprinkling crushed candies between layers.
Alternately, the candies may be added to the frosting as well.
Serve with a tall glass of milk!