Yogurt and Berry Parfait with White Chocolate Strawberry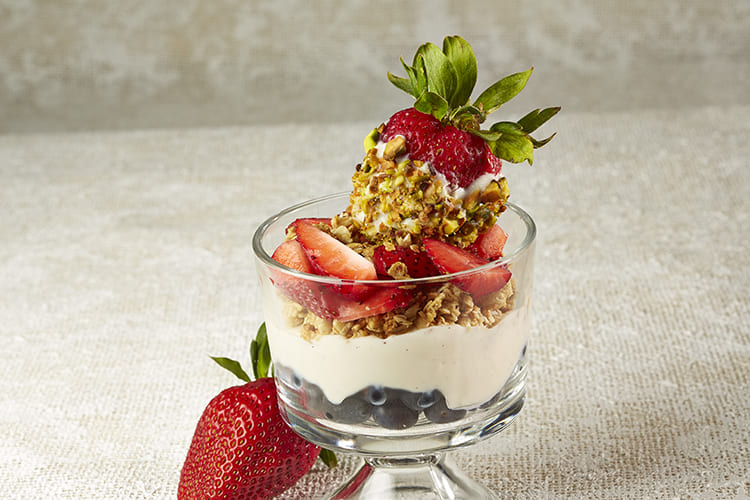 30

70

100

12

Print Recipe
Ingredients
Granola
5 C old-fashioned oats
1 C brown sugar
1 C coconut, flaked
1 C wheat germ
1 T ground cinnamon
1 tsp ground nutmeg
½ C water
½ C vegetable oil
1 T vanilla extract
½ C raisins
½ C sliced almonds
White-chocolate stuffed strawberries
12 strawberries
8 oz white chocolate
½ C mascarpone cheese
½ C pistachio nuts, finely chopped
Other ingredients
6 C blueberries
12 C vanilla yogurt
6 C strawberries, sliced
Preparation
Granola Preparation
Preheat oven to 325F.
Mix oats, brown sugar, coconut, wheat germ, cinnamon and nutmeg together in a large bowl. Stir water, oil and vanilla extract into the oat mixture; spread onto baking sheet.
Bake in preheated oven, stirring every 15 minutes until golden brown and crunchy, about 1 hour; transfer to a bowl. Stir raisins and almonds through the granola.
White-chocolate stuffed strawberries Preparation
Wash and pat dry berries with paper towel.
Cut slit in each berry from tip to almost stem. Gently pry slit apart. Using a knife, fill each berry with 1 tsp mascarpone cheese.
Heat chocolate in small bowl for 30 seconds, stir and repeat until melted.
Dip stuffed strawberry into melted chocolate. Gently roll into pistachios. Set berry on foil or wax paper on a baking sheet. Refrigerate until chocolate is hardened.
Assembly Directions
Fill each cup with ½ cup blueberries, 1 cup yogurt, ½ cup granola, ½ c sliced strawberries and top with stuffed strawberries.