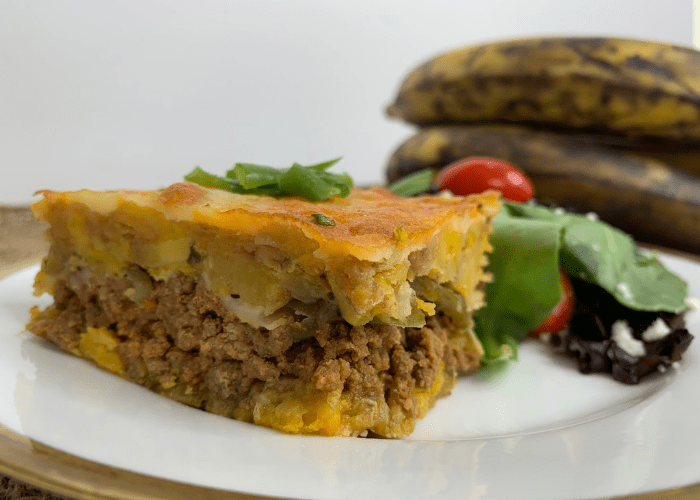 20

30

50

8

Print Recipe
Ingredients
1 pound ground beef

2 tablespoons of sofrito

2 tablespoons olives and capers

1 tablespoon of finely chopped red peppers

½ tablespoon of Adobo

Salt and pepper to taste

3 pounds frozen ripe plantains

6 oz French cut green beans

6 oz Queso Fresco

6 oz Grated Cheddar cheese such as Cabot Alpine Cheddar

3 eggs
Preparation
Heat the oven to 350° F. Heat the ripe plantains per the instructions in the bag until warm.

Cook the meat with sofrito, olives, capers, and red peppers for 5 to 7 min or until well cooked, stirring often. Season to taste, and then drain excess fat.

In a deep aluminum or glass dish, spray non-stick cooking oil. Smash half of the plantains with a fork to make an even layer. Add the meat, cover with queso fresco, sprinkle green beans and another layer of ripe plantains.

Mix the eggs and add over the plantain layer evenly. Use a fork to prick the plantain layer for it seep through the layers and bind the dish.

Finish with the grated cheddar. Bake for 20 – 30 min or until warm and the cheese is melted.

Wait 5 minutes before serving.
Note: You can create individual portions in smaller containers or even in cupcake plan for wonderful appetizers.