Chipotle Shrimp and Chickpeas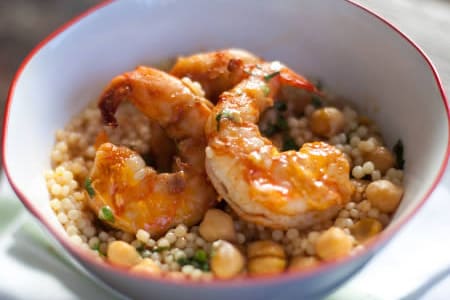 Print Recipe
Ingredients
Preparation
Recipe by Bold with Butter
Yield: 4 servings
Ingredients:
1 pound extra-large shrimp (16-20 per pound); peeled and deveined
1 teaspoon finely chopped garlic
½ teaspoon chipotle chile powder, more to taste
1 teaspoon olive oil
Kosher salt
4 tablespoons butter
1 14-ounce can chickpeas, drained
2 tablespoons chopped cilantro
2 cups hot cooked pastina or acini de pepe past
Directions:
Place shrimp, garlic, chipotle powder, oil and ½ teaspoon salt in bowl and toss to combine.
Melt 1 tablespoon butter in 12-inch skillet over medium-high heat. When bubbling subsides, add shrimp and cook until they turn pink and are cooked through, stirring frequently.
Add chickpeas to shrimp along with remaining 3 tablespoons butter; cook 5 minutes.
Taste and season with additional salt, if desired. Sprinkle with cilantro and serve in bowls over pastina.