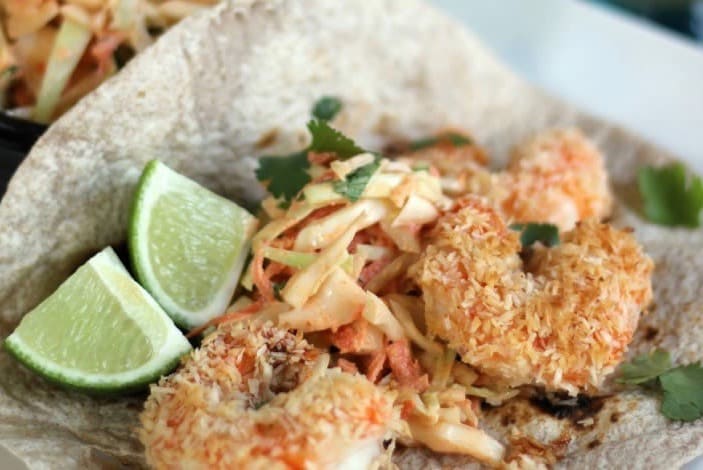 Print Recipe
Ingredients
Preparation
Recipe by Bold with Butter
Prep time: 10 minutes
Yield: 8-10 Tacos
Coconut Shrimp Tacos Ingredients:?
For the Shrimp
2 cups finely shreeded coconut
5 tablespoons unsalted butter, melted
2 tablespoon olive oil
1/2 teaspoon cayenne pepper
1 teaspoon salt
1 1/2 pounds large (14-16 count) shrimp, peeled and devined
For the slaw
4 tablespoons sour cream
3 tablespoons mayonnaise
1 teaspoon lime juice
1 teaspoon fish sauce
1 heaping teaspoon red curry paste
2 teaspoons brown sugar
5 cups shredded cabbage
1 cup shredded carrots, about 2 small
1/2 cup cilantro, chopped
8-10 flour tortillas, warmed
Lime wedges for serving
Coconut Shrimp Tacos Directions
Preheat oven to 425 degrees fahrenheit. Lightly oil large rimmed baking sheet.
Place coconut in wide shallow bowl or pie plate. In fairly large bowl whisk together melted butter, oil, salt cayenne pepper. Toss shrimp in butter mixture, ensuring that each shrimp is lightly coated with butter. Working with one shrimp at a time, press each into coconut, pressing gently and shaking off excess. Place in single layer on prepared baking sheet.
Bake shrimp until coating is golden brown and shrimp are opaque througout when pierced with tip of knife, 10-15 minutes
While shrimp is baking, make slaw. Mix sour cream, mayonnaise, lime juice, fish sauce, curry paste and brown sugar until well combined. Season to taste with salt and pepper. Toss dressing with cabbage and carrots until well coated. Add cilantro to taste.
To make tacos, place spoonful of slaw in each tortilla, top with 2-3 shrimp and squeeze of fresh lime juice.