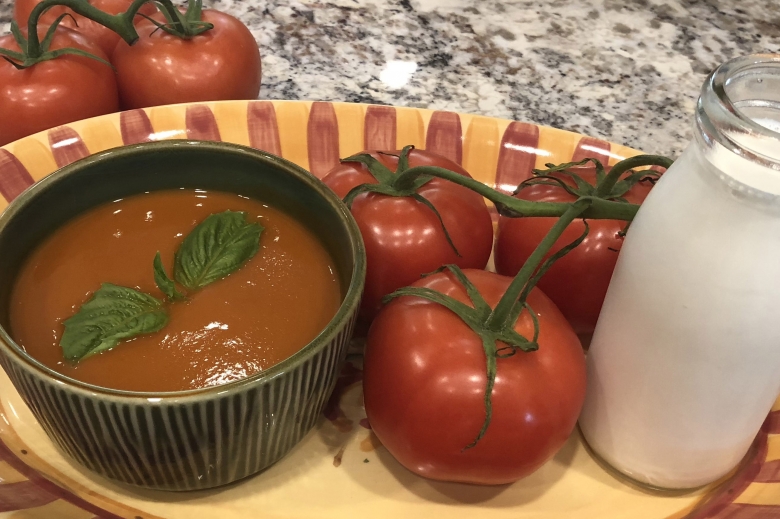 15

20

35

6
Recipe by Heather McPherson
Nothing says fall comfort like a bowl of creamy soup. It's the perfect meal on a busy weeknight. Add grilled cheese sandwiches for the ultimate dairy menu. Basil and tomatoes are a great pairing, but thyme and peppery celery leaves are also great options.

Print Recipe
Ingredients
4 pounds ripe tomatoes, peeled, seeded, and chopped (see note)
1 tablespoon extra-virgin olive oil
1 medium sweet onion, finely chopped
1 clove of garlic, minced
6 sprigs fresh basil
4 cups chicken stock, preferably homemade
1/2 teaspoon sugar
Coarse salt and freshly ground black pepper to taste
1 1/2 cups heavy cream
1 teaspoon balsamic vinegar, or more to taste
Julienned basil leaves for small fresh sprigs for garnish
Preparation
In a large pot, heat oil on medium-high. Add onions and cook, stirring occasionally, until soft, about 5 minutes. Add the garlic and sauté 1 to 2 minutes more. Tie basil sprigs together with kitchen string. Add the basil, tomatoes, chicken stock, sugar, and salt and pepper to taste to the onions. Bring mixture to a boil over high heat, reduce to medium low and let simmer until reduced in volume by a quarter, about 15-20 minutes. Let mixture cool. Remove the basil. Taste to check for seasonings, adding more salt and pepper as needed.
In a food processor or blender, puree the soup in batches until smooth. Strain the liquid into a large pan and bring to a simmer over medium heat. Remove pan from the heat. Stir in the heavy cream and balsamic vinegar. Adjust seasonings as needed.
Ladle the hot soup into bowls and garnish with fresh basil.
How to seed and peel tomatoes: Core tomatoes and, using with a paring knife, cut a shallow "X" on the bottom of each. Blanch cored tomatoes in boiling water. After a minute or two remove tomatoes with a slotted spoon and place in a bowl of ice water. The skin around the removed core and "X" should be slightly curled or loose. When the tomatoes are cool enough to handle, peel the skin and discard. Cut tomatoes in half and squeeze out seeds. Chop remaining tomatoes for soups or sauces.