Creamy Tomato Soup & Grown Up Grilled Cheese Sandwiches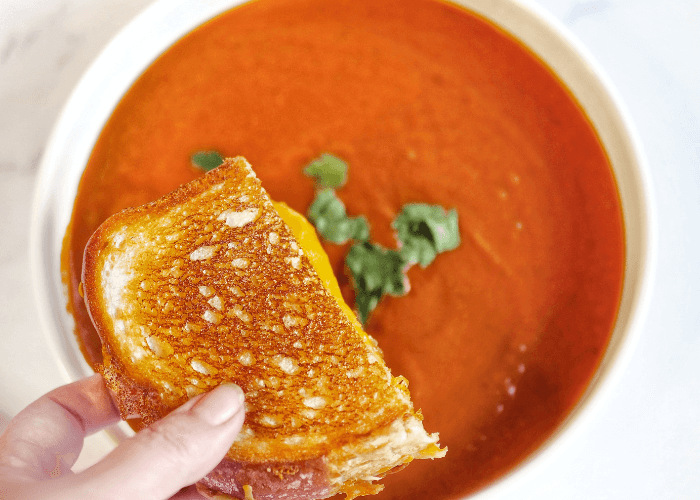 30

90

120

4

Print Recipe
Ingredients
Soup Ingredients
2 28 oz. cans whole peeled tomatoes
7 whole garlic cloves
1 small onion, peeled and halved
3 Tablespoons EVOO
1 teaspoon Italian seasoning
½ teaspoon dried thyme
½ teaspoon granulated garlic (not garlic salt)
1 14.5 oz can sliced carrots
3 cups low sodium vegetable broth or chicken stock
1 1/2 cups Florida Milk (we used Whole Milk)
1/4 teaspoon pepper
1-2 teaspoon sea salt
Grilled Cheese Sandwich Ingredients:
8 slices thick sliced bread
4 tablesoons butter, softened
1 clove of raw garlic, grated with a Microplaner
½ cup sharp cheddar cheese, shredded
½ cup Swiss Cheese, shredded
½ cup Monterey Jack Cheese, shredded
4 Muenster Cheese slices
4 Medium Cheddar slices
Preparation
Soup Instructions:
Preheat oven 375.
Remove whole tomatoes from can, cut tomatoes in half, and reserve excess tomato juices and canned sauce for another use.
Lay tomato halves on a baking sheet with halved onion. Drizzle EVOO lightly over tomatoes and onion. Season with salt-free Italian seasoning blend, dried thyme, and granulated garlic.
Place unpeeled whole garlic cloves in foil, drizzle with EVOO and seal to form a parcel. Place on the baking sheet or directly on the oven rack. Roast all vegetables for 1 hour.
When vegetables are finished roasting and you are ready to make soup. Heat 1 Tablespoon EVOO in a medium pot, over medium heat. Cook drained carrots until softened, about 6 minutes.
Add roasted tomatoes, roasted onion, and peeled roasted garlic to the pot. Add vegetable or chicken broth to the pot and stir, breaking up tomato and onion into chunks with a temperature safe spatula or wooden spoon.
Use an immersion blender or transfer soup mixture to a stand blender, process the mixture. Add milk to the pot or blender and process soup until smooth. Return to pot to heat through.
Season with salt and pepper to taste.
Note:
Depending on the type of canned tomatoes used, the soup flavor can vary. We used Cento Peeled Plum Tomatoes and the soup had a classic cream of tomato flavor. For a creamier consistency add a splash of heavy cream. If your soup is too tart, balance by sweetening with 1 tsp of honey or agave. Taste, add more sweetener if needed.
Sandwich Instructions
In a small bowl combine softened butter and grated garlic. Butter one side of bread with the garlic butter mixture for each grilled cheese sandwich being made.
In a skillet over medium heat, place one slice of bread butter side down. Pile ? cup each of Sharp Cheddar, Swiss, and Montery Jack Cheeses. Add one slice of Muenster and one slice of Medium Cheddar cheeses, top with buttered bread slice.
Toast on medium heat until bread is toasted and garlic is cooked, approximately 3-4 minutes.
Gently flip sandwich with a spatula. Turn heat down to medium-low heat, toast until bread is golden brown and cheese is completely melted. Repeat with remaining sandwiches, slice sandwich in half before serving with Creamy Tomato Soup. Enjoy!