Creamy Turkey and Wild Rice Soup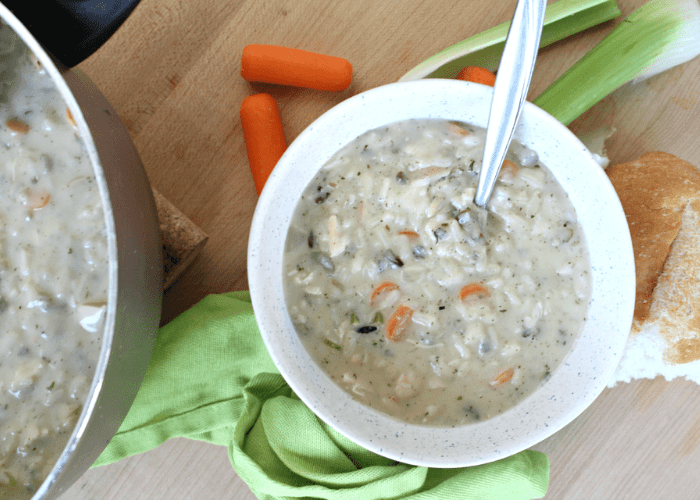 15

30

45

6
This creamy, hearty Turkey and Wild Rice Soup is the perfect solution to your Thanksgiving leftovers and is super easy to make. Recipe is written and created by Tracy Shaw of
Food Wine Sunshine
.

Print Recipe
Ingredients
1/2 cup diced onion
2 cloves garlic - minced
¾ cup diced celery
¾ cup diced carrots
½ cup diced mushrooms
2 cups diced/shredded turkey - leftovers work perfectly
1 box quick cook long grain wild rice
4 cups chicken broth
1 cup water
2 cups milk
2 tsp salt
2 tsp pepper
1/2 cup all purpose flour
7 tbsp butter
Preparation
In a large pot over medium heat, saute the onions and garlic in 1 tbsp of butter.
Once the onions start to get translucent add in the carrots, celery, and mushrooms.
While the vegetables are cooking, in a medium saucepan over medium heat, melt butter.
In a small bowl, combine salt, pepper, and flour.
Stir in contents of rice seasoning packet into the saucepan with the melted butter (NOT the rice).
Reduce heat to low, then stir in flour mixture by adding 1- 2 tablespoons at a time, to form a roux.
Whisk in milk, a little at a time, until fully incorporated and smooth. Cook until warm, 5 minutes.
Pour the broth, water, and turkey into the larger pot with the vegetables. Bring just to boiling, then stir in rice.
Stir the milk mixture into broth and vegetables. Cook over medium heat until heated through and the rice and vegetables are tender.
Enjoy!
Notes
This soup is delicious with a nice chunk of bread, or serve it in a bread bowl!