Garden Gazpacho with Fried Sweet Corn and Bacon Topping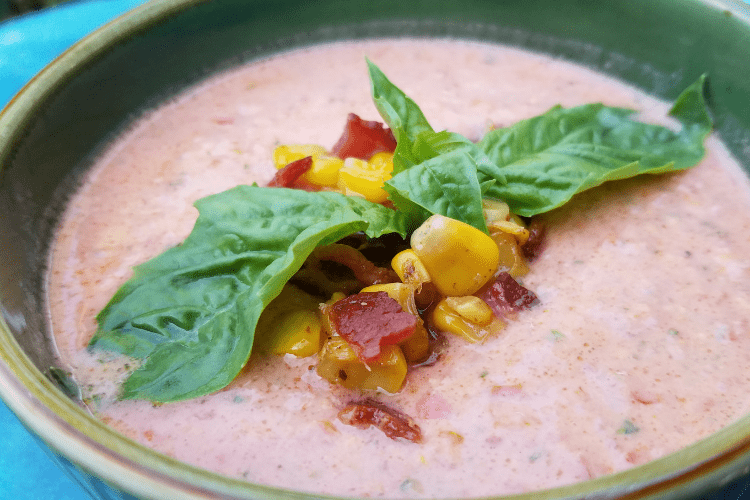 35

7

42

6
The nutrients in dairy products play key roles in preventing heart disease, obesity, high blood pressure, diabetes, and osteoporosis, and dairy is important for building strong bones and teeth. For June Dairy Month, Florida Dairy Farmers are reminding consumers to choose milk, cheese, and yogurt, all of which are excellent sources of calcium, vitamin D and potassium.
This cold soup is a refreshing summer menu choice for brunch, lunch, dinner. Thick Greek yogurt and whole milk provide a silky texture and extra protein. You can substitute one small cucumber for the celery, but each ingredient imparts distinct taste nuances. I prefer celery because of its pleasantly bitter quality that works well with acidic tomatoes.
Traditionally leftover crusty white bread is an ingredient in gazpacho. This variation on the recipe eliminates the bread making the gazpacho gluten-free.
Recipe provided by Heather McPherson from Heather's Florida Kitchen.

Print Recipe
Ingredients
1 1/3 cups fresh Florida sweet corn kernels, divided (see note)
1 slice thick-cut bacon, diced,
3 large Florida tomatoes or the equivalent to yield 3 cups roughly chopped
1 cup Greek yogurt
1/2 cup whole milk, cold
1/2 cup extra-virgin olive oil
12 basil leaves, julienned, plus more for garnish
1 garlic clove, peeled and chopped
2 green onions, trimmed and chopped
1 rib celery, chopped with the top leaves
3 ice cubes
Coarse sea salt to taste
Freshly cracked black pepper to taste
Red wine vinegar to taste
Pinch Aleppo or cayenne pepper (see note)
Preparation
For the topping, fry the diced bacon in a large skillet over medium heat. When done, remove to paper towels to drain. Leaving the brown bits in the pan, pour off all but 1 tablespoon of the bacon fat remaining in the skillet.
Place pan over medium high heat and add 1 cup of corn kernels. Stir, scraping up browned bits, for 1 minute. Corn kernels will burn easily so continue to stir as needed to brown on both sides. When done, remove to paper towels to drain. When completely cool, combine the bacon and the corn.
For the soup, in a blender combine corn, tomatoes, yogurt, milk, olive oil, basil, garlic, onions, celery, ice cubes, pinch of salt and black pepper, splash of red wine vinegar, and pinch of Aleppo. Purée until smooth. Taste and add salt, pepper and vinegar as needed.
Pour into bowls and garnish with corn and bacon mixture in the center and a basil leaf on top.
Recipe notes:
Not all food processors or blenders have high capacity. You many need to divide the soup ingredients in Step 3 into two batches to puree properly.
An ear of corn yields about 3/4 cup of fresh kernels. You can substitute canned and drain sweet corn kernels when fresh corn isn't in season.
Shop for the Aleppo pepper in Middle Eastern markets, gourmet specialty stores or online through sources such as penzeys.com. Aleppo pepper has a moderate heat level with a mild, cumin-like undertone. Cayenne pepper will give the gazpacho a bit more bite.