Gouda and Chorizo Mac and Cheese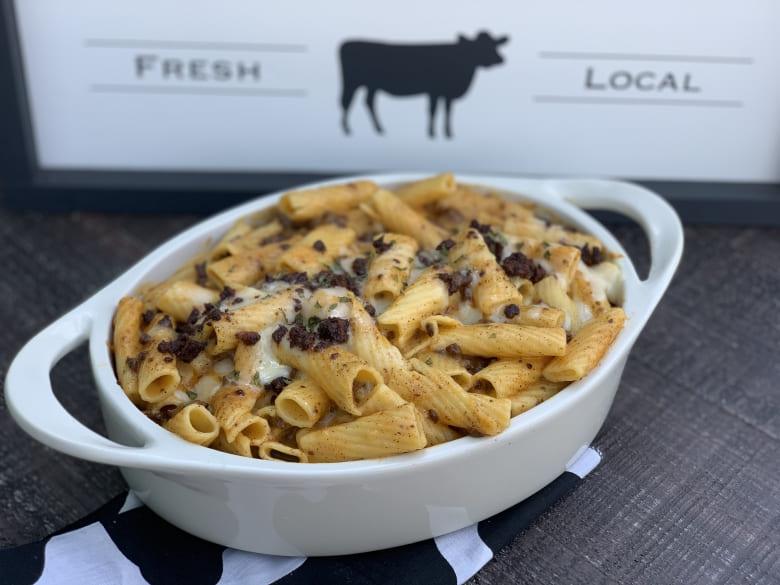 15

50

65

8
Recipe written and created by Diahann Smith of the Florida Dairy Farmers.

Print Recipe
Ingredients
4 tablespoons of butter
4 tablespoons all-purpose flour
1 teaspoon salt, or to taste
1 teaspoon Worcestershire sauce
1 teaspoon of garlic powder
1 teaspoon of onion powder
1 teaspoons of mustard powder
Freshly ground black pepper to taste
16 oz. gouda cheese, grated, reserve 4 oz. for topping
12 oz. Cabot Alpine Cheddar, grated and reserve 4 oz. for topping
2 cups whole milk
1 cup heavy cream
1 lb. pasta
8 oz. chorizo sausage, cooked and drained
½ cup parmesan cheese
parsley
Preparation
Bring large pot of salted water to a boil for cooking pasta al dente (it will continue cooking during baking). Preheat oven to 450°F. Coat 9" x 13" pan or similar baking dish with cooking spray.
Cook chorizo sausage; set aside.
In a large heavy sauce pan on medium low make the roux by melting the butter (do not let it brown) and flour together and then adding the dry ingredients (salt, garlic, onion, and mustard powders). Use a whisk to combine the ingredients until the mixture is uniform throughout. Let it cook (you will see it bubbling) for about two minutes.
Add milk and cream over medium heat until sauce simmers and thickens, two to three minutes.
Lower the heat to lowest setting and add gouda and Alpine cheeses and stir in cheddar until melted.
Stir Worcestershire sauce, and taste sauce. Add more seasonings: salt, pepper, mustard, garlic or onion powder if needed. If the cheese sauce is too thick add up to ½ cup of additional whole milk.
Add the drained pasta to the cheese sauce; mix well.
Add the chorizo.
Spread half of pasta mixture in prepared baking dish. Add some of the reserved shredded gouda and cheddar. Top with remaining pasta and sprinkle with reserved gouda, cheddar, and parmesan.
Bake until bubbly and golden, 25 to 30 minutes.


Dish can be prepared in advance. Prior to baking, cover and refrigerate for up to 2 days or freeze for up to 3 months. Thaw in refrigerator, if necessary, then bake for 35 to 45 minutes.