Greek Orzo Salad (Karina Salad)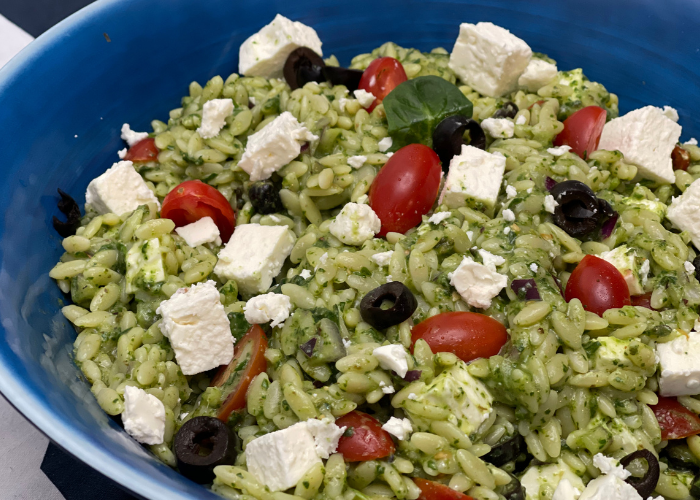 20

10

30

8

Print Recipe
Ingredients
1 lb Orzo pasta cooked al dente and salted
1 pack cherry or grape tomatoes, halved
1/4 - 1/2 cup black olives slices or Greek olives
1/2 red purple onion diced
1 lb feta crumbles or cubes
1/2 cup fresh chopped parsley
1 tbsp oregano
2 tbsp lemon juice
4 cloves or garlic
3/4 - 1 cup prepared Greek salad dressing
4 cups baby Spinach leaves
Salt, Pepper and Garlic salt to taste
Preparation
Bring a large pot of salted water to a boil. Add pasta and cook for 8 to 10 minutes or until al dente; drain. Drain rinse with cold water and allow it to cool. Set aside.
Purée spinach, oregano, lemon juice, garlic with 1/2 cup Greek salad dressing, mix with cooled orzo.
In large bowl combine pasta, tomato, cucumber, onion, feta, olives, parsley, and toss. Add remaining salad dressing 1/4 cup. If it looks dry add a little more dressing. Taste again and adjust your seasonings with salt, pepper and or garlic salt.
Add the crumbled feta, toss again and chill for 1 hour in refrigerator.
Just before serving, decorate with additional feta, olives and tomatoes.
Other toppings: Cubed cucumber, marinated artichokes, roasted red peppers, green peppers, lemon zest, nuts etc...
Notes: You can adjust the amount of any and all ingredients to your liking or use what you like or have at home. I prefer serving the salad at room temperature. Save in the fridge for up to three days.