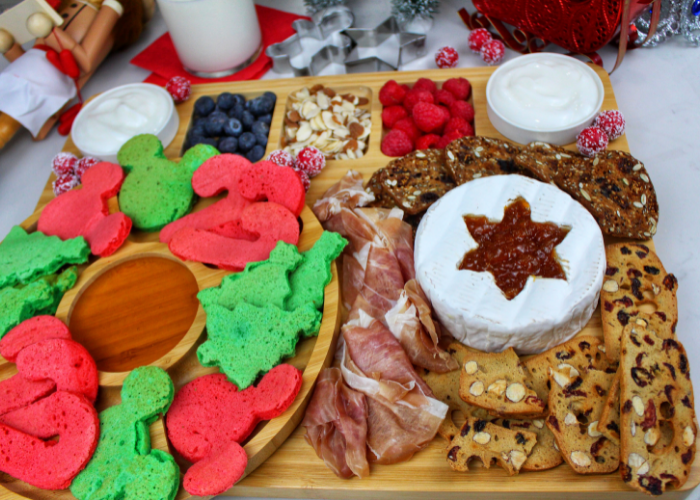 30

15

45

4

Print Recipe
Ingredients
For the Pancakes
2 cups Pancake Mix
1.5 cups whole milk
1/3 cup brown sugar
red and green food coloring
Christmas cookie cutters
Honey for dipping
For the Board:
7oz Brie wheel
Cranberry and Almond Crackers
Fig and Olive Crisps
Prosciutto
Fresh berries
Almonds
Apricot Jam
Yogurt
Preparation
In a large mixing bowl, combine the pancake mix and milk. Whisk until smooth
Add the brown sugar and whisk until desired consistency
Divide the pancake mix into 2 separate bowls
Add red food coloring to one bowl and green food coloring to the other, mix until you reach the desired holiday colors
Heat pan or griddle to medium-low and using an ice cream scooper, add 2 scoops of pancake mixture for each pancake
Each bowl should make 3-4 pancakes.
Using your favorite cookie cutters, create your mini pancakes and set them aside.
Build Your Board:
To create a holiday shape on the Brie, simply press the cookie cutter down until it goes through. Now it's time to get creative and assemble your board to your liking! Add the mini pancakes and honey for dipping. Enjoy.