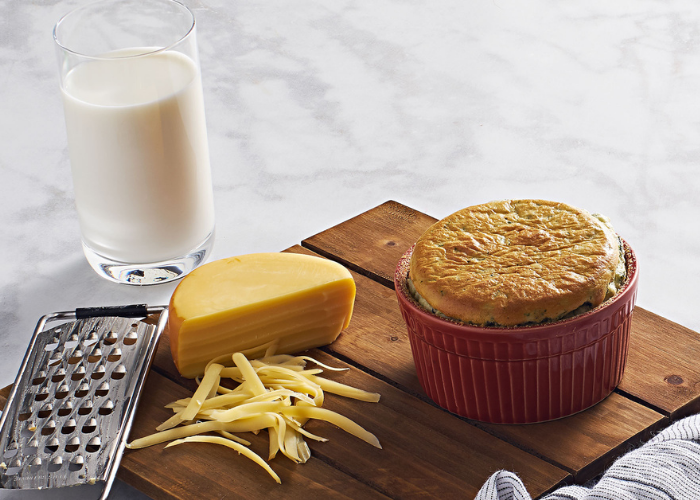 20

25

45

6
Recipe by Narcoossee Middle School.

Print Recipe
Ingredients
¼ C + 2 T butter
¼ C bread crumbs
¼ C flour
1 C milk
5 oz smoked gouda
¼ C frozen chopped spinach, prepared
¼ tsp nutmeg
¼ tsp salt
1/8 tsp black pepper
4 eggs, separated
1/8 tsp cream of tartar
Preparation
Grease 6 ramekins and coat with bread crumbs. Set aside. Preheat oven to 350F.
Melt butter adding ¼ C of flour. Cook until golden. Slowly add milk then whisk until thick and smooth. Add smoked gouda, stirring until melted. Then stir in the spinach. Add nutmeg, salt, pepper and egg yolks, then stir.
Place egg whites in glass bowl. Beat until foamy. Add 1/8 tsp of cream of tartar. Continue to beat until stiff peaks form. Gently fold egg whites into sauce.
Pour mixture into greased ramekins. Run finger around inside rim of ramekins.
Bake for 18 minutes; serve immediately. NOTE: Don't open oven door until done)
Serving Instructions: Serve immediately with fresh fruit.