Savory Waffles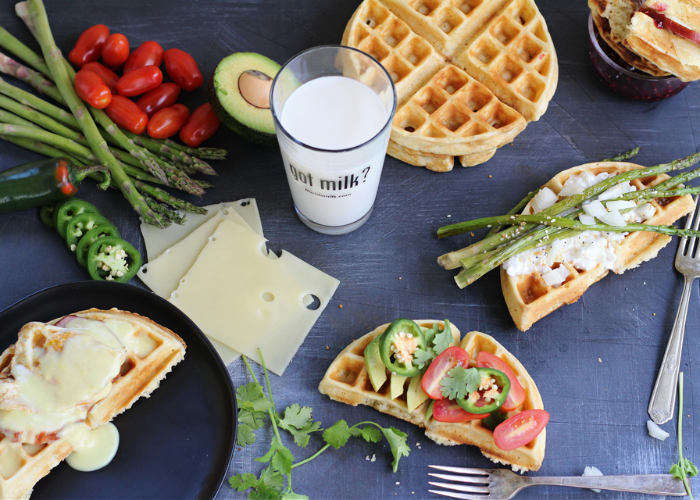 10

5

15

4

Print Recipe
Ingredients
Homemade Waffles
1 tsp vanilla
2 eggs
1/3 cup melted butter
1 2/3 cups Florida Milk - I used whole milk
2 cups all purpose flour
1 tbsp baking powder
1 tbsp sugar
1/2 tsp salt - I used Habanero Florida Sea Salt
Topping Ideas
Eggs Benedict - Canadian Bacon, egg and hollandaise sauce - I used the package hollandaise sauce that is made with milk and butter

Cottage Cheese with roasted asparagus, sweet onions and everything bagel seasoning

Monte Cristo - I used Canadian Bacon, Swiss cheese and raspberry jam

Avocados, tomatoes, sliced jalapeno, and fresh cilantro

Mac n cheese, chicken and BBQ sauce (not pictured)

Chili and shredded cheese (not pictured)

Chicken and maple syrup/hot honey (not pictured)

Cream cheese and fresh veggies (not pictured)
Preparation
In a medium size bowl, mix together all the dry ingredients.
In a small/medium bowl, mix together all the wet ingredients. Mix well.
Pour the milk/egg mixture into the flour mixture. Whisk.
Preheat your waffle maker as directed.
Pour large spoonfuls onto greased waffle iron until mostly full.
Close the lid and cook for about 3-5 minutes or until golden brown or as directed.
Pro Tips: Don't overmix the batter, you should have some lumps! Don't use a standard cooking spray, I used olive oil spray.