Super Cheesy Bacon and Onion Potato Gratin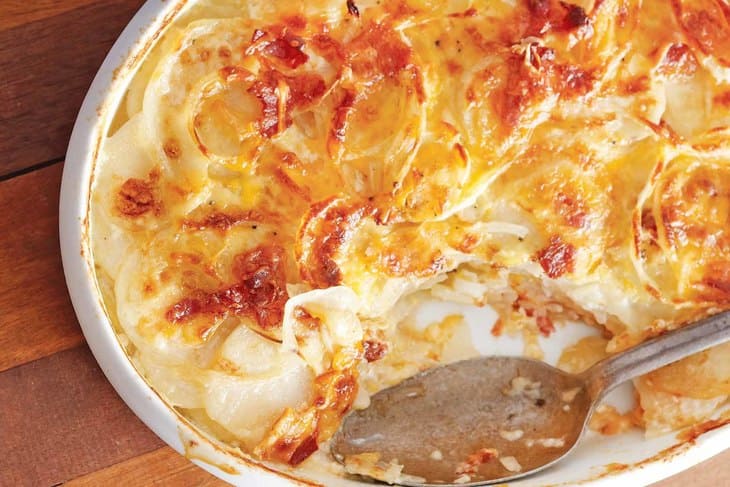 30

90

120

6

Print Recipe
Ingredients
Softened butter, for the baking dish

3 pounds russet potatoes, peeled and very thinly sliced

2 large yellow onions, thinly sliced

3 garlic cloves, minced

3 tablespoons butter

8 ounces bacon, cooked and crumbled

1 1/2 cups shredded smoked Gouda cheese

1 cup shredded Cheddar cheese

1 cup heavy cream

1 cup milk

2 tablespoons all-purpose flour

1 teaspoon salt

1/2 teaspoon freshly ground black pepper

1 teaspoon Worcestershire sauce
Preparation
Preheat the oven to 350 degrees F. Butter a 9- by 13- inch baking dish with softened butter. Cover the bottom of the baking dish with one-third of the potatoes. Top with one-third of the onions and garlic. Dot with 1 tablespoon of the butter and sprinkle with 1/3 of the crumbled bacon. Top with 1/3 each of the Gouda and Cheddar cheeses.

Repeat steps with the remaining ingredients in two more layers, ending with the layer of cheese on the top.

Whisk the cream, milk and flour in a small bowl. Add salt and pepper and stir in the Worcestershire sauce. Pour the cream mixture over the potatoes.

Cover the dish with aluminum foil and bake for 1 hour 10 minutes. Remove the foil and return the dish to the oven. Continue to bake for another 20 to 25 minutes or until the potatoes are tender when pierced with a fork and the top is browned and bubbling. Let stand 10 minutes before serving.