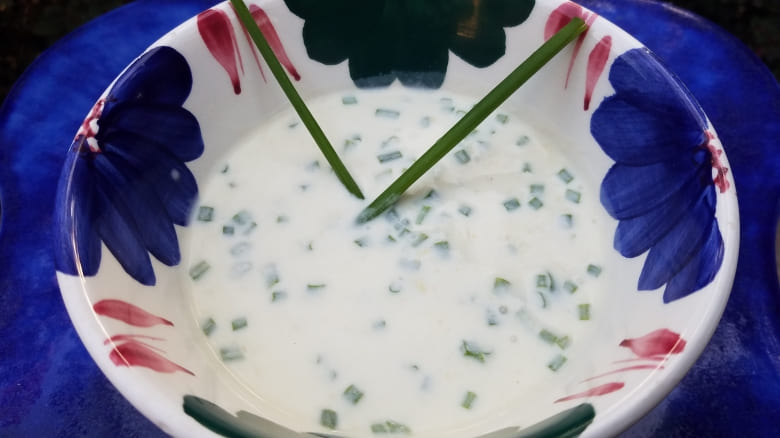 20

45

65

6
Classic chilled soups are never out of style. The refreshing flavors of this Vichyssoise, a potato and leek soup, make a great first course for dinner or main course for lunch. Chilling the soup overnight lets the flavors meld nicely. Add this recipe to your make-ahead files for holiday gatherings. If you like a thinner broth, add whole milk or half-and-half in small increments to achieve the desired consistency.
Recipe written and created by Heather McPherson.

Print Recipe
Ingredients
2 medium leeks, cleaned and thinly sliced (see note)
1 small sweet yellow onion, diced
3 tablespoons butter
1 pound Yukon gold potatoes, peeled and diced
1 quart chicken or vegetable stock
Coarse salt and white pepper to taste
1/8 teaspoon freshly grated nutmeg
2 cups whipping cream
1/4 cup freshly chopped chives, plus whole or additional chopped chives for garnish
Preparation
In a large saucepan, melt butter over medium heat. Add leeks and onions and stir until onions are translucent, about 4 minutes.
Add the potatoes, chicken stock, and salt and pepper to taste. Bring mixture to a boil. Reduce heat to low and cook, uncovered, until leeks and potatoes are tender, about 30 minutes. Remove from heat and let pan sit for 5 minutes.
Working in small batches, puree soup in the work bowl of food processor or blender. Rinse the cooking pan. Pour the pureed soup through a fine sieve back into the pan, pushing the liquid through with the back of a wooden spoon. Heat soup just until ready to come to a boil. Temper the cold whipping cream by stirring with a little of the hot soup. Stir the tempered cream into the pan. Add the nutmeg and bring the mixture to a boil. Remove pan from the heat.
Add chives. Taste for seasonings and season with additional salt and white pepper as needed. Refrigerate, covered with plastic wrap, until thoroughly chilled. Serve in chilled bowls or cups. Garnish with additional whole or chopped chives.
Test kitchen tips:
When you remove the tops of the leeks, freeze them in a freezer-quality plastic bag. Add to a stockpot the next time you make broth from scratch.
To clean leeks, trim off all but an inch of the upper dark green portion then slice remaining pieces lengthwise. Place leek under cold, running water, shuffling the layers with your fingers to give the water access to any dirt or sand.